Hello everyone! I hope you are having a great afternoon. I have been so busy with getting things ready for our trip up north so I haven't been on here much. Sorrrryyy! Anyway, last night we went out to a very nice dinner and then did some shopping afterwards. Some of the items below are things for the trip and other items for the house. If you want to see what we got, enjoy the video below!
Thanks for watching! I should have another haul up in just a little while! There is always so much to get and do before going out of town. :)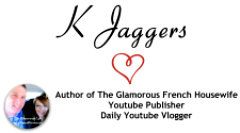 Take some time to explore
My housewife Life Youtube Channel
.

Check out all my recent videos in the first row and browse through all the different categories of videos (like Beauty, Cooking, Pets, Trips and much more!) located in the bottom rows. You can also
subscribe to my Youtube Vlog Channel
where I post daily vlogs of all sorts! Be sure to subscribe to both and be the first one to learn about new
videos!