Hello everyone! I hope you are having a great afternoon. Its kinda cool here today but the sun is shinning and feels amazing. I just got back from doing our Easter shopping and thought now would be a good time to share yesterdays's vlog. Let me tell you.... yesterday was never ending. It seemed like everything I done.. had to be redone. Including dinner! And this was suppose to be uploaded while I was sleeping but for someone it didn't.. so yep. I had to re upload this video! Hahahah.. it was just one of those days! If you want to check out what went on around here yesterday, enjoy the vlog below!
Hope your having a wonderful Thursday!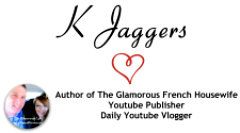 Take some time to explore
My housewife Life Youtube Channel
.

Check out all my recent videos in the first row and browse through all the different categories of videos (like Beauty, Cooking, Pets, Trips and much more!) located in the bottom rows. You can also
subscribe to my Youtube Vlog Channel
where I post daily vlogs of all sorts! Be sure to subscribe to both and be the first one to learn about new
videos!