Hello friends! I hope you are having a great day. Yesterday my poor husband had to get some work done on his neck which was no fun at all. But he got feeling better pretty quick. We came back home afterwards and then headed to the grocery store. I swear, we looked like two old misfits trying to get around the store together! Its hard because I kept telling Scott that I would go with Jackson but he wanted to go. So we tooled around the store and then once we got back home.. Husby went right back out to meet up with some friends. I swear that man has such a high pain tolerance. Anyway, if you want to see how our day went, enjoy the vlog below!
I hope you have a great day. I will be back soon with more videos!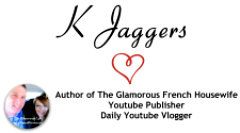 Take some time to explore
My housewife Life Youtube Channel
.

Check out all my recent videos in the first row and browse through all the different categories of videos (like Beauty, Cooking, Pets, Trips and much more!) located in the bottom rows. You can also
subscribe to my Youtube Vlog Channel
where I post daily vlogs of all sorts! Be sure to subscribe to both and be the first one to learn about new
videos!