Hello everyone! I hope you are having a wonderful afternoon! I am back with yesterday's vlog! I am still trying to recover from broken ribs but once I got moving, I had a pretty nice day. I did read some comments that I didn't like and Scott and I addressed them in this vlog together. You know, I wish more than anything that women wouldn't tear each other down. I think I am going to do my best to just stop trying to respond. Its hard though. I want to set things straight. I think if I was a celebrity and reading about myself in the magazines everyday, I would want to start my own magazine just to set the record straight each time. But that's just me. However, its not healthy and there will always be someone judging as long as we put our lives out there in the public online world. I just can't believe someone would think I would curse out a teacher if they suggested my son needed something. I have such good relationships with Jackson's teachers and I believe it takes a village to raise a child and I listen to teachers and Doctors. As does my husband. So I just like setting the record straight but its taking more of my energy than what I want to give it. I think at the end of this video my husband sums everything up very nicely and we will leave it at that. If your interested in what I am talking about, check out the vlog below.
I also want to say that I am sorry for taking up YOUR time with this bullshit too. No body knows it all but if we all share our experiences and journeys together, we can all learn from each others lives. Thank you guys for sticking around with us and being so kind. We love you guys.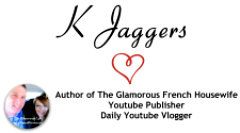 Take some time to explore
My housewife Life Youtube Channel
.

Check out all my recent videos in the first row and browse through all the different categories of videos (like Beauty, Cooking, Pets, Trips and much more!) located in the bottom rows. You can also
subscribe to my Youtube Vlog Channel
where I post daily vlogs of all sorts! Be sure to subscribe to both and be the first one to learn about new
videos!