Hello friends! I am about to run out the door in a bit so I can run errands but I thought I would share this video with you first! :) This video is looong and took super long to upload which is why its popping up today instead of yesterday. It had been a while since I done a Monday Mail Video so I had a lot to show you. Hope you enjoy!
Thanks for watching...I love hearing from you guys and if you want to send me any mail.. here's the address!
You never have to send anything. I love you either which way but if you do happen to send something... I will ALWAYS send something back!
Happy Tuesday!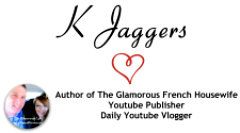 Take some time to explore
My housewife Life Youtube Channel
.

Check out all my recent videos in the first row and browse through all the different categories of videos (like Beauty, Cooking, Pets, Trips and much more!) located in the bottom rows. You can also
subscribe to my Youtube Vlog Channel
where I post daily vlogs of all sorts! Be sure to subscribe to both and be the first one to learn about new
videos!