Happy Friday Friends. Are you ready for another edition of Friday Letters? If so, enjoy!
Dear Spring, it looks like you FINALLY arrived! We have all been waiting on you for a very long time. I have already had to use the air a few times this past week. Woooooo-hoooooo!
Dear Scott, Thank you for trying to make me feel better Wednesday. It was super sweet of you. Also thank you for taking care of things when I couldn't. I can always count on you. And I can't wait for that pear salad you are bringing me in just a bit. YUMMMMMMMMMMMM!

Dear Brittany, Have I told you lately how much I miss you? I just wish I could reach out and give you a huge hug.
Dear Bottom Dwellers,
Yes I have been on your website nosing around however, I am not like you. I don't thrive on putting down others from the comforts of my computer. Instead I am honest and I don't hide like a sneaky bitch. Keep it up... because I am sure your karma will be around for you in good time and she is a much bigger bitch than I am. But I love all your thoughts and conspiracy theories about my life. I think the one I love the most is... " She better straighten up before she gets divorced and looses custody of Jackson. " Ha! Been with Scot for over 10 years at this point.. so I will take my chances and hey dumbasses.. Jackson is his stepson so I am pretty sure, he would ALWAYS come with me. Idiots. :) Have a great Friday haters.
Dear Mom,
Thank you for being such a good mom to me. I couldn't have asked for a better mother. Its funny how the people who raised me thought they were doing good when in fact, they were not. I wonder what they think now when they see my relationship with you. You are one of my best friends and I love you dearly.
Dear Jackson,
You have got to trust us enough to be HONEST. No one likes a liar so start trusting us to be able to handle what ever you throw our way. We love you so much and you are better than the little lies you are choosing to tell. Super happy Spring Break is here for you! Woooo-hooooo!
Dear Shanna,
Thank you for always being upfront and bold with me. I need more friends like you. I would rather you just tell me how it is instead of sugar coating things. I love you for being such a great friend to me. I miss you.
Dear Kitty Cats,
I love your little furry creatures that roam around our house. I think Romeo should be named Sloth because he doesn't move so fast! I am so thankful for a husband who loves you guys as much as I do. BUT...please quit dropping all your food on the floor...your so messy!
Dear Jordan,
I miss you. I have missed you for YEARS. You are getting older now and I know you love me. I know it. Remember jumping in my arms in Culbertson when my mom was there? I was cooking and you came in the back door and was in my arms instantly. Lets just start fresh shall we?
Dear House,
I wish you could just clean yourself. We are still on the hunt for a housekeeper but in the meantime, you are just going to have work with us a little bit. I am broken up and can't do a lot and hubby is not the best at cleaning you up but we are trying! Once I get feeling better I will clean all your windows!
Dear South Carolina,
the more I live here.. the more I really enjoy it. The weather is pretty nice and the mountains are AMAZING. I feel blessed to have been able to travel a lot and found you! I hated NC but SC is so different and so much better. Thank you for being your home for the time being. Who knows when or if we will move again but I am just going to enjoy you while I can!
Dear Trina,
I wish you guys could come for Easter. However, we will be there next month! Don't forget Lauras Graduation is on Monday May 12!
Dear Hope Owners,
Hell is too nice of a place for you. What you did to
this dog
is so awful that I think putting your ass in jail for 10 years is not enough. What is wrong with people!?
Dear Larua,
We can't wait to see you and the girls. So proud of you for all your hard work in college. I promise.. just keep doing good and it will pay off!
Dear Tasha,
Sorry about Rocco being a her instead of a him. We have never had that problem before but I am she is doing so well in her new home. Thanks for offering to come help during my difficult times. I totally appreciate it.
Dear Blog/Youtube Friends
, Thank you for spending yet another week with us. I have been so touched by the kindness you guys have shown my family and myself over this hard time. I am still feeling like crap but each day I am getting a little stronger. 3 broken ribs hurt more than you probably can imagine but I am trying my best to get back to normal. Since I haven't been able to do a lot this past week, I have caught up on many of your blogs and yt videos!! I find so much inspiration from you all. This past week I had a friend send me a email asking for my advice. I thought it would be nice for us to all help her out and if you would like to hear her story.. enjoy the video below. And if you have any imput that might be helpful.. please comment. I know she appreciates hearing your thoughts.
I hope you have a wonderful weekend!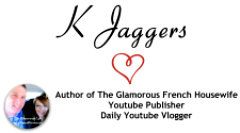 Take some time to explore
My housewife Life Youtube Channel
.

Check out all my recent videos in the first row and browse through all the different categories of videos (like Beauty, Cooking, Pets, Trips and much more!) located in the bottom rows. You can also
subscribe to my Youtube Vlog Channel
where I post daily vlogs of all sorts! Be sure to subscribe to both and be the first one to learn about new
videos!