Hello everyone! I am finally back from running errands. It took me over 5 hours to get everything done. Saying I am wore out, doesn't even come close to how I am feeling. Plus husby is coming home and wants to run out again. Yikes! Anyway, yesterday was another busy day for me but I have just been forgetful about everything. I think I forgot 4 or 5 things yesterday! Anyway, if you want to check out our day... enjoy the vlog below.
Thanks for watching! I hope you have a great evening.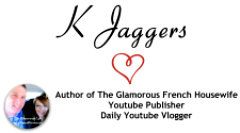 Take some time to explore
My housewife Life Youtube Channel
.

Check out all my recent videos in the first row and browse through all the different categories of videos (like Beauty, Cooking, Pets, Trips and much more!) located in the bottom rows. You can also
subscribe to my Youtube Vlog Channel
where I post daily vlogs of all sorts! Be sure to subscribe to both and be the first one to learn about new
videos!