Hello friends. I hope you are having a wonderful Monday. So today's Weekend in Review is a little different. You won't see tons of instagram pictures or fun things I did. Nope..In the middle of last week, I was in a pretty serious car wreck which left me broken up.
This weekend has been a weekend of recovery. I have 3 broken ribs and have been struggling to find any position where I am not in pain. Its a struggle just to breath right now and the more I try to move around, the more my body reminds me that its not ready. Its been a weekend of no makeup and seriously crazy bed head hair. Scott has been here helping me in anyway needed. Yesterday he did laundry, cleaned the kitchen and made dinner. God knows I am grateful for his love and help along with Jackson. Jackson is such a good little boy to have around when your not feeling good. He just loves to help in anyway. Much of my days have been slept away because the pain meds are so damn strong. I cut them in half and they still knock me out. But this has been a weekend of slow recovery. :(
I want to take a minute to talk to you guys about all the get well wishes I have been receiving. Once it was known what happened, emails have been pouring in. For many of you, you have used the comment form to send me your love and prayers while others have commented on my videos or facebook page. Simply saying thank you does no justice for the amount of love and kindness you guys have put around me. I am so touched by you guys. Truly. I am not only blessed to be alive I am blessed to have such wonderful readers and subscribers. Thank you. Thank you. Thank you. And with the sweet comes the sour sometimes. There have also been people who criticized me for the accident. I was not vlogging and driving or doing anything else with my phone when the accident happened. I vlogged for a couple minutes before and then about 10 minutes a car came into my lane, causing me swerve, flip and end up in the woods off the highway. Even if I was vlogging, it would not excuse the other driver. I was not given any tickets for the accident except a warning because I admitted I was not wearing a seat belt. There were plenty of other people on the highway who saw everything.
A friend sent me this quote and I thought it was very fitting.
Sorry about the language
I am so grateful that I didn't hurt another person. I am also grateful that it wasn't worse for me than what it was. There are websites dedicated to hating us (bloggers/youtubers ).. really judgmental websites where I am mentioned more than once. And they think I have commented myself on there..well they can just keep guessing if it was me or not. I am certainly not going to take my time for them in anyway besides these few sentences. Nothing they can say or do can take away from the love and kindness you guys have shown me for years.. not just over this accident. They are simply losers who thrive on judging other people instead of taking inventory of their own lives. You know the kind of people who point fingers at others who are completely screwed up themselves. You know who I am by now from the vlogs. We are not perfect. To be very honest, we are not glamorous at all. We are just one family in this big world trying to figure things out as we go. The house is not always clean and neat.. the kids don't always behave and Scott and I don't always get a long. Again.. its real life. I don't just glam it up for vlogs...why should I? I think its better to yourself . I hope you continue this journey with us and don't just watch and never say hello.. I love getting to know you guys too! :) Thank you so much for taking time out of your day to let me know that you are praying for me. During my darkest moments from this accident, your words lifted me up. I will be forever grateful for such wonderful subscribers friends.
With the accident, things have been kinda slow with videos and vlogs. I will try my best to get back to my normal schedule but its hard. I filmed my birthday haul video today right from the couch that will be up later tonight. But the last video I put up was this Baked Tacos Recipe. I think these are better than regular old tacos and perfect to make on any weeknight. I have yet to post the recipe on here but everything you need to know is in the video below.
I know this wasn't over the weekend, but since you are here, I thought I would share the vlog from the day of the accident. It was a horrible day leaving me badly bruised and broken.
Over the weekend I really did not film much. It seemed like a like a big job to just pick up the camera. But I did film a little... so if you are interested.. have look at my very slow weekend. I slept a ton and just stayed medicated to not feel the pain as much.
Today I had a Dr. apt and everything is pretty much the same... BROKEN & PAINFUL. But I am trying my best to go back to a little bit of my routine. Scott helped out a lot yesterday but I still have things that need done regardless of my broken ribs. Those dang pills make me so tired but I break them in half just to be able to stay awake but it still doesn't work out so well. This dam blog post has taken me all day to write and I am super sleepy right now!
Find a way to sleep in the bed. I know it might sound funny but I can't find a comfortable place to sleep besides the lazy boy or couch.
Try to slowly get back on a schedule this week.
Keep using the painful breathing machine to keep my lungs strong. ( and it sucks )
Go through the bills and get them paid.
Start looking for another car.
Reply to comments and emails
Get a journal packaged up and mailed off to a pregnant friend.
Allow my family to help me more. Its hard not doing it all myself but right now.. I totally need them.
Change posting schedule in planner... zone cleaning will have to be put off a couple more weeks.
Enjoy long baths...it has made me feel better every time since the accident.
Make sure I show my family how much the mean to me. ( I'm pretty sure I am not the easiest person to nurse back to health. )
Pray more.
I hope you have a wonderful week. I am trying to get myself back to normal but it will probably take longer than a week. I hope you understand if my posting schedule on here and youtube are a little different until I get feeling better. Thanks again for all your kind words.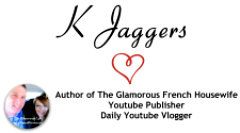 Take some time to explore
My housewife Life Youtube Channel
.

Check out all my recent videos in the first row and browse through all the different categories of videos (like Beauty, Cooking, Pets, Trips and much more!) located in the bottom rows. You can also
subscribe to my Youtube Vlog Channel
where I post daily vlogs of all sorts! Be sure to subscribe to both and be the first one to learn about new
videos!