Hello friends! I hope you are having a lovely Monday. For me, I am tired today. I think I needed an extra day in the weekend to just catch up on sleep. And I know husby could have got a couple more hours of sleep himself. I probably would have had this up sooner but I had the internet guy out here....again trying to get it fixed. For whatever reason, we just keep loosing our wifi and its driving me crazy! So even though this is going up later.. I hope you enjoy my weekend in review!
This past weekend I have to admit, I felt a little overwhelmed. Things just kept rolling in and happening without any notice causing my schedule to get all messed up. I know.. stay at home mom's and wifes don't normally have a big schedule that they have to stick to but for me, if I don't have some kind of schedule in place for the day...nothing gets done. Friday was really one of those days for me. I did manage to get my crockpots pulled out so dinner could at least cook while I was busy trying to figure out what else should get done. I think I thought about things more than I actually did. I managed to drink a lot of coffee and enjoy the spring like days. The warm temperatures are so nice. I love having the windows open letting the house air out during the day.
Saturday came and before I knew it...I was heading out to the grocery do our shopping. I normally do it on Sunday's but I decided to go ahead and get it done. The boys thought they were starving but we still had a lot in the house. I came home and made a food haul and got all the items put away which took a while. I also got a new basil for my herb window. I failed to trim back my other basil plant and it got huge. Sooooo. I planted that one outside and put the smaller one in the kitchen. I think fresh herbs are so nice to have in the kitchen. We use them all the time and I plan on growing more veggies in the summer too. Scott was super nice and brought home a ton of Girl Scout Cookies. I was super happy to see those boxes of Somas! Did you know I made my own Soma Girl Scout Cookies!? I sure did... and if you want to see how to make them, you can click here for the recipe!
Sunday came and the boys took off to the golf course and I was home with Super Cooper and the cats. It was a lovely day and I was happy to have some quiet time at home.I got a couple videos filmed and I also got some housework done too. Once they got home, Scott and I took off on errands. It kinda sucked because it took longer than expected and we just ended up stopping to get a burger for dinner. I really didn't want a burger again for dinner but I knew the dinner I had started before we left, wouldn't be finished in time for dinner. So I came home and put that away for tonights dinner and had a late burger night instead. I hate it when things don't go according to my plans! Ha! I really need to learn that its ok to let things go and if they don't happen the way I have planned... then its ok. But its still something I really struggle with. And today is no different. I certainly didn't plan on my internet being down until 2pm and I already feel behind with what I wanted to get done today. But I am just going to go with it and do my best catch up and not flip out if things are not going along on the schedule I wanted. Its crazy how unexpected things popping up here and there affect my life so much. I just got to try harder each day to just enjoy the moment.
Weekend Videos:
Friday I shared my most used February Beauty Products. I finally used up the last of my Clinque Dewy Smooth foundation and went to reoder it and found it discontinued. I was shocked.. but there was another one that took its place that I will probably try out. If you want a full list of all the products check out the blog post here!
This Crockpot Hawaiian Chicken and 2 Hour Crockpot Sticky Rice was soooo good. My family loves this meal and I bet your family will love it too. If you only have one crockpot.. .you could certainly make the sticky rice the day before which in my opinion makes it better or you could just buy some premade sticky rice from the frozen section of your grocery store.
Sunday I posted my Weekly Food Shopping Haul. I did get a lot so its a rather long video for a haul. But I love sharing our menu ideas with you all because I know many of you find dinner inspiration from these hauls. Remember.. I love watching them as much as I love making them so let me know if you post a food haul because I will check it out!
Weekend Vlogs..
Hot Water Theif - Find out who stole my hot water Friday Night! :)
Schedule Switch - I told you things have been switched up around here lately and Saturday was no exception.
Mirror Messages - Love messages are being left on mirrors here lately. Wonder who is being romantic!?
Get House Cleaned up and start Zone Cleaning in the Kitchen
Make time to get to the Post Office
Fill Jackson's Prescriptions
Whiten Teeth...which I HATE doing.
Bake and Film Breakfast Cookies
Set oven to clean and let it go.
Go over credit card transactions and make sure the numbers are right.
Get Jacksons Dentist and Eye Dr appointments made.
Get February Household Favorites Gathered up for Video
Get book mailed off to pregnant friend
Answer emails and comments
Hope you have a great week!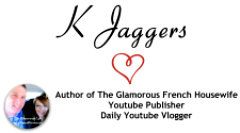 Take some time to explore
My housewife Life Youtube Channel
.

Check out all my recent videos in the first row and browse through all the different categories of videos (like Beauty, Cooking, Pets, Trips and much more!) located in the bottom rows. You can also
subscribe to my Youtube Vlog Channel
where I post daily vlogs of all sorts! Be sure to subscribe to both and be the first one to learn about newly released videos!