Hello friends! I hope you are having a great day. Its freezing here. I'm serious.. its not even 34 degrees yet. According to our misinformed lying weatherman we should be back to warmer weather by Thursday. We'll see. I know many of you are freezing right along with me so I will try to not complain too much but BURRRRRRRRRRRRRRR! Thursday was a long day for me.. I kinda got to tell you that so you kinda understand why on Friday I slept in until 12:30. First off, I am so thankful for a husband who doesn't mind doing morning shift with Jackson. I hate mornings... and I do afternoon, evening and night shift but Scott and Jackson get up at the same time so it just makes sense. But Friday I slept in and it felt amazing. However, it was another over cast day but it lightened up some and the sky just turned this beautiful pink that really made me take a second to just look and appreciate the big beautiful sky. Also on Friday, I made my Irish Dinner early to share it with you guys in case you wanted to make it for TODAY! Scott totally loved it and the beer really made it taste good. Speaking of Scott, he came home with such pretty roses for me. I love how thoughtful he is. Jackson was wound up Friday. I think he was just super happy to be done with school for a few days! Saturday we had very easy going day together. We laid around and cuddled because it was another freezing wet day. I ended up making a late French toast dinner which we all really loved. It was prefect for a night I didn't want to cook.
Once Sunday came around, I was out of the bed before Scott was. He hasn't been sleeping well so I knew letting him sleep would be better for him. So I got up and watched more coverage on that missing plane. Its insane that they can't find it. Once we all got awake and moving we headed out for a family day. It was a little later in the day that what I had hoped for but we still had a good time. We had some really yummy burgers before going and playing a few games of bowling. It was nice getting out together. Jackson smiled and giggled a lot so getting out as a family did him good! Once we got back home, the boys laid around and had lazy time while I did a quick trip to the store to get the few groceries that we would need this week. I didn't feel like doing that either but I didn't want to go out today so I just went and got it over with. Instead of taking my purse, I just grabbed my wristlet wallet and took off. Once I got home and got the stuff in, I noticed that wristlet was missing. I about died. I didn't put anything up but instead jumped right back in the car and took off to go find my wallet. I seriously was driving too fast but I made it to the store and my wallet was still in the buggy out in the cart area of the parking lot. It was pouring down rain so I think that helped with no one bothering it. I was more than grateful to find it. My best friend kept saying how lucky I was. She was right and I was so very thankful for finding it. I got home and made a food haul, put up the groceries and then started getting ready for today. I gave the herbs a good water, got Jackson's stuff ready for school today and when I slowed down.....I realized how bad I felt. I went to bed with a throbbing headache and sadly woke up with it this morning. But I took some meds and hoping to feel better soon.
VIDEOS
February 2014 Household favorites shows you what items I have been using and loving over the month of February.
Here I show you a simple St Paddy's day dinner made in the crockpot along with a very easy recipe for Irish Soda Bread. This is a super easy meal that you can make anytime of the year not just for Saint Patrick's day! The Guinness beer really made it taste good!
This is our shopping haul for this upcoming week. I share what I found and what I plan on using in our upcoming dinners.
VLOGS
Well Rested.
March 14, 2014
Late Start
March 15, 2014
Sunday = Family Fun Day! Glam Gossip Vlog
March 16, 2014
Get hair dyed...the grey is showing through. I don't really mind aging but I wish we could figure out something that would just stop grey hair from every growing. Let me just say.. white hairs on a brunette is not so pretty.
Still need to work in the office. I really need to do a good cleanup on it and fast.
Film as many of this weeks videos on Monday and Tuesday as possible to make the week go easier.
Call about Jacksons Dentist and Eye appointments.
Work on Zone cleaning the kitchen...BIG JOB!
30 minute master bedroom closet pickup
Sort through emails
Answer questions and comments on blog and youtube channels
I hope you have a beautiful and warm Saint Patricks Day!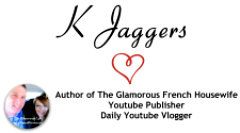 Take some time to explore
My housewife Life Youtube Channel
.

Check out all my recent videos in the first row and browse through all the different categories of videos (like Beauty, Cooking, Pets, Trips and much more!) located in the bottom rows. You can also
subscribe to my Youtube Vlog Channel
where I post daily vlogs of all sorts! Be sure to subscribe to both and be the first one to learn about new
videos!