Happy Wednesday Friends! Time for another Wednesday Hodgepodge with Joyce from over at
From This Side of the Pond
....this is always such a fun linkup.. join in anytime! Hope you enjoy.
1. The expression 'mad as a March hare' originated with a fictional character who is distracted and frantic. When were you last 'mad as a March hare' and what was it that made you that way?
Well recently husby and I have been disagreeing about an old friend of his. So that would have to be my pick! I would also have to say the boys not being able to hit the damn laundry basket ever. I know its small but after cleaning up after them day in and day out... it starts to get old. Just hit the laundry basket!
2. Mardi Gras this year falls on Tuesday, March 4th. Have you ever been to Mardi Gras, and if so what did you think? If not, do you have any interest in going? Purple, green, and gold are the colors of Mardi Gras. Which one is most prevalent in your wardrobe? How about in your home
Well we have a child that lives in New Orleans so yes we have been many times! Here's a picture heavy blog post from the last time we went. I also did another post on my top thoughts on Mardi Gras too. Honestly, I am not a huge fan of New Orleans to begin with. But its is fun to go see the floats! I tend to wear more purple than green or gold and I don't really have many of mardi gras colors in the house.
3. Are you old fashioned?
In some ways I would say I am. I really believe that I had to have lived in either the late 1800's or 1900's. I don't know if this counts.. but friends tell me I dress like an old person all the time! Ha!
4. Do you carefully plan your vacations, or do you prefer the days to be more spontaneous?
Some days are planned and some are more laid back. I think having a itinerary for things you don't want to miss is very important but I also think its nice to take a couple days and just go with the flow. Some of my best travel memories are from the days when we didn't plan things out.
5. March is National Sauce Month...what's your favorite sauce, and what do you most often top with this sauce?
I really love Browned Butter Sauce. Its so simple to make and is lovely on so many things. I love brown butter pasta the best but I could seriously put this sauce on just about anything and love it!
6. What's something that easily brings a tear to your eye?
Anymore, I am emotional over everything. A
commercial
can bring a tear to my eye! But normally when I start thinking about the people I have loved and lost over the years always brings many tears down my face.
7. If you could own any sports team, which one would it be and why?
I have
absolutely
no idea!
8. Insert your own random thought here.
Its late and I should be in bed but here I am! I have been a night owl my entire life. Its not easy either because there has been many nights when I have stayed up wayyyyy too late and then had to get up early and felt awful all day long. Thankfully tomorrow/today :) I can sleep in without any guilt! Husby is suppose to be off work today but he is going in for a couple hours to fill in. That will give me a couple more hours of rest before he gets home! Also tonight I finally got my homemade cleaners up with a full video and recipes. If you are interested in saving some money by making your own be sure to click
HERE
to check it out! And later today I will have a new planner update up! I have had so many questions about my blog and youtube calendar that I thought I would share it with you guys! Have a WONDERFUL WEDNESDAY!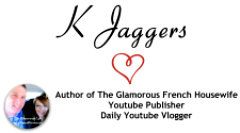 Take some time to explore
My housewife Life Youtube Channel
.

Check out all my recent videos in the first row and browse through all the different categories of videos (like Beauty, Cooking, Pets, Trips and much more!) located in the bottom rows. You can also
subscribe to my Youtube Vlog Channel
where I post daily vlogs of all sorts! Be sure to subscribe to both and be the first one to learn about newly released videos!