Hello friends, I hope you are having a good day. Here, its cold and rainy yet husby is at the Country Club playing golf with his friends. I can't believe he is out there in this weather. He is going to come home cold, wet and very tired. I can totally see him coming home and heading to a warm shower and a late afternoon nap. Anyway, yesterday I hung out at home and got a bunch of things done. It was another cold wet day so I didn't want to go outside at all! If you want to see what filled up our day, enjoy the vlog below!
I hope you are having a great day! I'll be back a little later with some new blog posts and new video.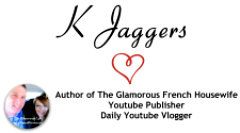 Take some time to explore
My housewife Life Youtube Channel
.

Check out all my recent videos in the first row and browse through all the different categories of videos (like Beauty, Cooking, Pets, Trips and much more!) located in the bottom rows. You can also
subscribe to my Youtube Vlog Channel
where I post daily vlogs of all sorts! Be sure to subscribe to both and be the first one to learn about new
videos!