Hello friends! I hope you are having a wonderful afternoon. Husby and I are still just laying around doing nothing but that's ok...its Sunday. :) I got some shopping to do later today but that's about all that's on the list. Its suppose to be 70 here today so we have the doors and windows open enjoying some very fresh air. I hate a stuffy house...come on spring! I'll be back in a bit.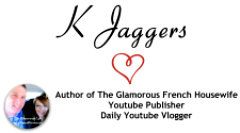 Take some time to explore
My housewife Life Youtube Channel
.

Check out all my recent videos in the first row and browse through all the different categories of videos (like Beauty, Cooking, Pets, Trips and much more!) located in the bottom rows. You can also
subscribe to my Youtube Vlog Channel
where I post daily vlogs of all sorts! Be sure to subscribe to both and be the first one to learn about newly released videos!