Hello friends, I hope you are having a great first day of Spring! For this beautiful day, I thought I would share a few of my tips to spring clean your purse. I think many of us don't really take the time to really clean out our purses and make sure we are carrying only the stuff we really need. In the video, I take from the beginning to the end of a very messy purse to a very organized purse! Also there are more pictures and info below.
Did you know that a lot of women have back and shoulder problems from carrying a heavy handbag? How crazy is that. I am sure many of us are having random back and shoulder problems from our purses and don't realize it.
For a couple of weeks, I tried the system with no little handbags to contain items and this is what I ended up with a jumbled mess. I had garbage, receipts, makeup, loose credit cards, Scott's stuff with no order or organization. I couldn't stand it but I was giving it a try because so many of my girlfriends follow this method which just didn't work for me. I got busy cleaning it out. I had tray for things that needed to be put else where, a bag for garbage, and then really sorted through everything and only kept the things I really needed.
I moved all those lost items that I wanted to keep into smaller travel size bags that keep everything secure and easy to find. I think that's the key to keeping a organized purse. Find some of those little bags that you probably have laying around and only pick items you truly need and want. This took all of 15 minutes to get all the garbage out, sort through the items and reorganize everything in the little bags.
Now everything is nice and organized with only my most wanted items. Now I do carry more than I should sometimes but I like to be prepared for basically anything. Having a purse that was a complete mess for 2 weeks was extremely difficult for me because every time I would go to get something I would have to basically rake the loose items from side to side to find anything. And don't even get me started about hunting for my keys in this huge purse. I don't know how you ladies do it! I hope you take a minute today or sometime soon to really give your handbags a clean out. I promise it will make you feel better and be much easier to carry! If you are interested in the handbag in the pictures and video its a Merona Sachal Bag that I found at Target. I have the matching wallet but I am not using it as much right now. But all the information on both the purse and wallet along with many other things are in this
Target Girly Haul!
I would love it if you let joined in the Spring Clean your Handbag Challenge!
Just get your purse cleaned out and send me a picture either on my
facebook fan page
,
twitter
, or
instagram
or even gmail.... All the links are above! Let me see those clean purses! :)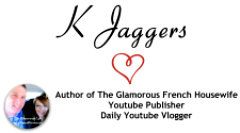 Take some time to explore
My housewife Life Youtube Channel
.

Check out all my recent videos in the first row and browse through all the different categories of videos (like Beauty, Cooking, Pets, Trips and much more!) located in the bottom rows. You can also
subscribe to my Youtube Vlog Channel
where I post daily vlogs of all sorts! Be sure to subscribe to both and be the first one to learn about new
videos!