Hello friends! Happy Saint Patrick's Day to you all! Its cold and nasty here but I am still wearing green so I don't get pinched! Today I am showing you my first Open
Birchbox
. I have been having fun with subscription boxes the past few months and I was super excited to get my first box - March 2014 -
Birchbox
is a monthly subscription box for $10 a month that gives you new skincare, haircare, fragrance & lifestyle samples. If you want to see what is included in my first box enjoy the video and don't forget more about this subscription box and more photos are below.
I think you do have to request an invite but it didn't take that long for me. The website is very detailed and you have the opportunity to answer some questions about what you like and how hair is etc, that will help them figure out what samples to include in your box.
When I first opened this box, the smell that flowed out was amazing. And that was just as I took the lid off. When I opened the tissue paper I fell in love with scent I was smelling.
I got six samples in total.
I love that they send an info card. I know it sounds silly but some subscription boxes don't send one and it makes it difficult to figure out the products at times. Thankfully on the back ( picture below ) there is a full list and description of each product for us to reference.
Here's what I got in my March 2014 Box:
Beauty Protector Protect & Detangle
: This is a best selling elixir that locks in color and protects your hair from heat damage at the same time adding silkiness to your tresses. This is what smelled sooooo good! It has a floral scent that just hooks you.
COOLA Tinted Matte SPF 30 for Face
This is a labled a Natural BB Cream because its a organic tinted moisturizer with lasting sun protection. I was a little nervous about this one because its like a one size fits everyone in color. Its kinda yellow toned but as I rubbed it in my skin, it felt light and blended right in. I am really excited to try this out and see how it works for me.
Gilchrist & Soames London Collection Body Lotion
This is another eco friendly spa grade body ltion that is suppose to be fast absorbing leaving your skin feel silky smooth with a light natural scent. This should come in handy right now because my skin is very dry. Just trying this out on my hand, it felt light and silky.. perfect for dry skin!
Harvey Prince Cherie Blossom - 50 ml
: I don't wear a ton of parfum. I only have a few that I love but don't even wear them everyday. Any parfum sample will last me a lot longer than most people but I love trying new scents. The scent of this one is perfect for spring with its romantic cherry blosom and vanilla musk. Its smells really nice and I am sure I will find a time to wear this one!
Tea Forté® minteas
: These little mints were super different upon first taste. They are sugar free, all natural mints infused with organic green tea and herbs. They are shaped like little leaves and brown in color.
And last but least they included a little treat from
Ghiradelli Cherry Tango Square
which makes me smile because I looove chocolate!
So for my first box, I love it. I am already happy with my samples!
I will be back next month with a few little reviews on some of these products and my April Open Box! Be sure to let me know if you have signed up for this subscription and what your March box included! If you are interested in receiving this little box every month for $10 head over to
birchbox.com
and ask for an invite. I think I got accepted in a week so I doubt it will be a really long wait. There are tons of opportunities to do reviews, get discounts, build points, and so much more so check it all out if your interested.
Happy Saint Patrick's Day!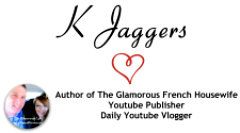 Take some time to explore
My housewife Life Youtube Channel
.

Check out all my recent videos in the first row and browse through all the different categories of videos (like Beauty, Cooking, Pets, Trips and much more!) located in the bottom rows. You can also
subscribe to my Youtube Vlog Channel
where I post daily vlogs of all sorts! Be sure to subscribe to both and be the first one to learn about new
videos!