Hello! I am back with another ipsy bag update! I have been totally loving trying different subscription boxes here lately. With
Ipsy
you can get a little bag with 4 or 5 products a month to test out for $10. On the
website
you can answer some short questions about yourself and your style so they can customize your bag to you. However, I think many of us get the same products. I am only 2 months in with this subscription service and I have to say.. I really enjoy getting it in the mail and finding out what new products are included! If you want to check out a few quick reviews of my February Ipsy bag and the items that came in my March Ipsy bag, enjoy the video. As always, there are more pictures and info below!
February Ipsy Bag Products
In February I got my first Ipsy Bag! I got a pink little travel bag ( I love these bags! If you want to see why...
CLICK HERE!
) It came with 5 items for me to test out!
City Color Be Matte Blush
I was actually happy to get this because I have never tried anything in this line and I love Matte Blushes. This one is in Fresh Mellon which is a nice peachy color.
It also came with a
Zoya Nail Polish
which was also nice because while I have a TON of nail polish, I didn't own any Zoya. This one is a pretty purply color in Odette. A color that I like a lot.
They also sent me some
J Cats lashes in EL47XS.
On a day to day basis, I don't normally wear fake lashes but I do like them for special occasions. These have a clear band that should be very comfortable to wear.
I next saw a lipgloss from
Pop in Fuchsia Freesia
. Its a mini size but the gloss is super nice and doesn't feel sticky on the lips!
The last item I got was the
Skyn Blue Clay Fresh Start Mask
that includes a blue clay mask and the activating gel. I just recently used this and was shocked at how well it made my skin look.
So this was a nice little bag to get! Actually I have never tried any of the products or brands. LOVE IT! And you can see inside the bag is a silky pink cat print liner that jazzes up the plain pink bag.
March Ipsy Bag:
When the Ipsy bag came in for March I was a little shock with the print on the bag. Not sure if I like it or not.. but I like the feel of it more than the design. Its got a rubbery texture that seems like it will hold pens and such well being its not a fabric.
Pixi Flawless Beauty Prime
r was the first thing that I saw. I actually had a sample of this and liked it so happy to get a tube to test out even more!
I then saw a eyeliner from
Chella in Indigo Blue.
I love blue liquid liners and have never tried anything from this brand so happy to see how well it holds up.
For whatever reason, I only got 4 products in March opposed to the 5 in February. I heard some others complaining about it too. Not sure if they are going to keep it like that or not but I do love the opportunity to try lots of new unknown products. And I love the little bags!
Have you tried the Ipsy Subscription service yet!? Let me know!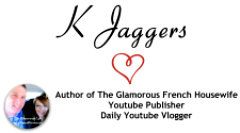 Take some time to explore
My housewife Life Youtube Channel
.

Check out all my recent videos in the first row and browse through all the different categories of videos (like Beauty, Cooking, Pets, Trips and much more!) located in the bottom rows. You can also
subscribe to my Youtube Vlog Channel
where I post daily vlogs of all sorts! Be sure to subscribe to both and be the first one to learn about new
videos!