Hello friends! I hope you are having a wonderful afternoon. Its windy, rainy, and cold here so I have been inside today. I am so thankful not to have to go out in that weather. Yesterday, I woke up exhausted. You know those days when you crawl out of the bed just as tired as when you crawled in. It was awful. I was pretty much bitch all the way around but I really tried to muddle through without causing too many problems! If you want to see my grumpy...sleepy day, enjoy the vlog below!
Thanks for watchin...hope your having a great Thursday!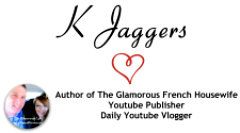 Take some time to explore
My housewife Life Youtube Channel
.

Check out all my recent videos in the first row and browse through all the different categories of videos (like Beauty, Cooking, Pets, Trips and much more!) located in the bottom rows. You can also
subscribe to my Youtube Vlog Channel
where I post daily vlogs of all sorts! Be sure to subscribe to both and be the first one to learn about newly released videos!