Hello everyone! I hope you are having a wonderful Wednesday. I am here with a look at the March 2014 Target Beauty Box. I shared a blog post with you letting you know where you could find this box and the samples included. If you haven't checked it out yet, you can
click here to check it out.
Just so all of you know, 99% of the products I get in and review are products I purchased myself. You won't see a blog post full of affiliate links and fake reviews. I do provide links to the products because I want you guys to be able to find them but that's just for you guys! Even when someone does send me a product, I am completely honest in my reviews. I purchased this beauty box on my own for just $5 which is a great deal if you want to try out any of these products! If you want to see what was included in the Beauty Box, enjoy the video! As always there are more pictures and info below.
Products Included:
Toni&Guy Casual Sea Salt Texturising Spray
: This is suppose to give you a beachy look to your hair when you spray it on your roots and ruffle up a bit. I thought this smelled really nice but time will tell how well it works!
Herbal Essences Naked Dry Shampoo:
Its been hard for me to find a dry shampoo I like, but this one promises to give your hair a rejuvenating boost. This is Paraben and Colorant free and has tapioca to absorb oil with less residue. Hummmmm... we'll see!
Jergens BB Body Cream:
I am still not so sure why any of us would need a body bb cream but this is suppose to be a multi tasking beauty cream for YOUR BODY that goes on sheer and delivers visible results in just 5 days. Again.. I have no idea how this will work but I will be testing it out and doing a full review in the coming weeks. They do have this in light and dark which doesn't make sense if it goes on sheer. Idk.
Covergirl Smoochies Sizzle Gloss:
I really like the Covergirl Smoothies and I have yet to see the glosses because its been a while since I have been makeup shopping but I was super excited to receive this so I can figure out if I like the glosses as much as the lip balms. Well, this little gloss tastes and smells amazing! I just put it on the first time in the video above and I think it looks pretty nice! :)
Loreal Voluminous Butterfly Effect Mascara
: So I tried this mascara already and you can
check out my first review here
and since then my opinion has changed a bit. At first it was a rather thin formula and was rather lengthening but I didn't find it very voluminizing. However, after using it for a while, the mascara dried out a little bit and it became much more voluminizing than what it was when I first used it. I am happy to have another to either use to put into my spring giveaway!
I think this is a great bargain for this box. It was $5 total with free shipping. I don't think you can beat that and the sample sizes are rather large so you will get a good chance to test them out before actually purchasing them. I will have some mini reviews on these products in the coming weeks.....stay tuned!
Let me know if you ordered this box and what you think about the samples!
Have a great Wednesday!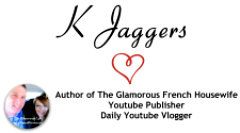 Take some time to explore
My housewife Life Youtube Channel
.

Check out all my recent videos in the first row and browse through all the different categories of videos (like Beauty, Cooking, Pets, Trips and much more!) located in the bottom rows. You can also
subscribe to my Youtube Vlog Channel
where I post daily vlogs of all sorts! Be sure to subscribe to both and be the first one to learn about new
videos!