Hello friends! I hope you are having a lovely afternoon. Around here, its beautiful.. almost too pretty to be sitting inside at a computer! But.. I wanted to share with you a quick review for the Dorco Shai Razor. The lovely people over at
Dorco
sent me this razor to test out and review. In the video below I explain what I think about this pink girly razor along with a demo of how it works on my legs. If your interested.. have a watch and as always.. more info and pictures below!
I really like this razor. First, its light weight is important to me. I don't want to be trying to shave with a heavy mens like razor. It has a base that can either secure by hanging on the shower wall or it can also suction down on a bathtub. Being I am a bath girl, I have mine right beside my tub. It hold its perfectly and it easy to put the razor in and remove. Don't forget, the blades will last longer if its not flopping around in the water. I don't switch out the head every time. If I rinse and dry the razor after each use, I get get a week or more out of 1 cartilage. The razor I was sent is this really pretty girly pink which is also something I like.
The head pivots around which allows it to move easily with the curves of your body. It shaves like a dream and I love that the moisture bars on the side are not HUGE. I know you ladies have to know what I am talking about. Have you ever tried one of those razors with the huge moisturizing bar around the blades. There is no way to get a good shave because there is huge gap between the blades and your body. You have to wait till that bar wears down to get a good shave.. no thank you. The moisture bars on this razor are on the ends are not thick allowing you to get a smoother shave with the benefits of the bar. They contain chamomile, olive oil, which are great for for skin. This little razor does a really good job with those 6 blades that remove the hair with one swipe. The cartage's come in a safety cap that prevents any accidents from happening. I love it! I bet if you use it, you will love it too. I plan on giving one of these away in my upcoming spring giveaway so stay tuned! However, if you want to go on and try this razor out for yourself you can use this coupon code:
H7310Q0FA377
for 15% off! Just head over
here
and use it when you check out!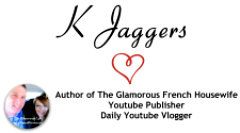 This was a sponsored post. I was sent this product to review, however that does not change my opinion either which way. My opinions are based on my thoughts on the product which are always honest.
Take some time to explore
My housewife Life Youtube Channel
.

Check out all my recent videos in the first row and browse through all the different categories of videos (like Beauty, Cooking, Pets, Trips and much more!) located in the bottom rows. You can also
subscribe to my Youtube Vlog Channel
where I post daily vlogs of all sorts! Be sure to subscribe to both and be the first one to learn about newly released videos!