Morning Friends. I hope you all are having a wonderful Saturday morning. I thought I would take a couple minutes while I am awake to kinda check in. Broken ribs are really no fun at all. Its extremely painful to just breath let alone move in anyway. Sleeping with broken ribs is a art within itself which I have not really mastered yet. I feel like I got hit with a mac truck but I am going to be ok. I am hoping by Monday I will feel like sitting down to film but who knows if I will be able to or not. I am just going day to day right now. Scott has been so helpful. Its funny because he keeps packing in food. I finally had to ask him to stop because he's bringing more than I can eat. He's been so helpful and loving during this very difficult time. Jackson too. They both have been so quick to help in anyway. Its hard to do anything right now so they have been stepping up a little more and showing they care. In fact, all my family and many of YOU have sent message after message, left comments and been so uplifting. Thank you. I have read them all and they have really touched my heart. In response to the few comments and emails I got regarding things that have been said about me....don't worry about it. There are far more good and kind people who read this blog and watch my videos. Those people are the bottom dwellers who are like 1% of the people who come here. They are nothing and I am not paying attention to it and neither should you. Its simply not worth it. I am not going to let someones mean opinion about something take away from all friends and support I have. Lets talk about the good and not the bad because there has been so much more good. I totally appreciate all your emails checking in on me and being supportive. Right now is not such an easy time for myself, let alone my family but things will be ok. I am most thankful that none of the kids were in the car with me and I am also thankful that when I was spinning out across that highway, I didn't hurt someone else's family member. That would have been horrible and I not sure I could have lived with that. It could have been worse and I know it.
I don't know how long I will be off my normal posting schedule. The pain meds make me so sleepy so I have just been shutting the laptop and sleeping as much as possible. I don't feel the pain as much when I am dreaming. When I am awake, I knit a little bit because I can't move around. I am sure getting a good start on some Christmas gifts. :) Anyway, I just wanted to check in and say thank you. I mean it too. Thank you to all my family and friends who have been nothing but supportive, loving, and uplifting and I couldn't do all this without you. I am truly touched by all your love and support. One of my readers/viewers emailed me last night to ask how I was doing and asked if I wanted her to mail me her copy of the book I was going to get when the accident happened. She happened to have one and didn't mind lending it to me. How sweet is that. I can't wait to read it. And that's just one thing. I think I have been on many prayer requests which means a lot. Thank you. Thank you. Thank you. I love you guys. I'll be back when I can. Have a great Saturday.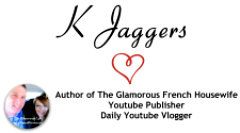 Take some time to explore
My housewife Life Youtube Channel
.

Check out all my recent videos in the first row and browse through all the different categories of videos (like Beauty, Cooking, Pets, Trips and much more!) located in the bottom rows. You can also
subscribe to my Youtube Vlog Channel
where I post daily vlogs of all sorts! Be sure to subscribe to both and be the first one to learn about new
videos!