Hello friends. I am here today with yesterday's vlog. It wasn't such a good day for me and I am really happy to be home and resting. If you want to see what I am talking about enjoy the vlog below.
Thank you for all the
youtube
comments, love and support. I am working on feeling better but taking today really really easy.
Also with the wreck, I didn't get a chance to post Tuesday's vlog on here so here it is, in case you didn't get a chance to see it. And I was in a much better mood. :)
I have to say thank you to all my family and friends for being so supportive. I love you guys.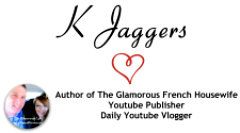 Take some time to explore
My housewife Life Youtube Channel
.

Check out all my recent videos in the first row and browse through all the different categories of videos (like Beauty, Cooking, Pets, Trips and much more!) located in the bottom rows. You can also
subscribe to my Youtube Vlog Channel
where I post daily vlogs of all sorts! Be sure to subscribe to both and be the first one to learn about new
videos!