Hello friends! I am still enjoying this snow day in a warm cozy house with Jackson. He doesn't know yet but the school just called to let us know that there is no school tomorrow either. He sure is going to be a happy happy boy! Yesterday it was all about preparing for the snow and weather. I think our town cleaned out the grocery stores and are getting prepared for the winter storm. If you want to check out our day, enjoy the vlog below.
Its been snowing all day here... and it doesn't look like its slowing down. We are suppose to get another 7-10 inches of snow tomorrow. Yikes! Hope your staying warm. :)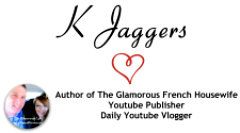 Take some time to explore
My housewife Life Youtube Channel
.

Check out all my recent videos in the first row and browse through all the different categories of videos (like Beauty, Cooking, Pets, Trips and much more!) located in the bottom rows. You can also
subscribe to my Youtube Vlog Channel
where I post daily vlogs of all sorts! Be sure to subscribe to both and be the first one to learn about newly released videos!