Afternoon friends! I hope you all are having a wonderful Monday. I am back with another weekend in review. I am not a huge fan of Monday but I do like the idea of a new fresh week. However, both the boys are gone and I miss them a lot. But I normally take the time to start my day as stress free as possible. Then I normally do some cleaning and videoing. I try to keep errands to a minimum just to keep things easy on Monday's. I remember what it was like jumping out of bed and rushing to a job on Monday morning. It totally sucked and if my morning went bad, it tainted the entire day. So I know how lucky I am to be home and not have to go through that anymore. Anyway, it was warm here over the weekend but the freaky weather is taking a turn and we are suppose have really cold weather today - Wednesday with snow. WTF? 67 here on yesterday down to 27 by Tuesday. Thats crazy. I totally don't understand the weather patterns. And lets face it.. we are all craving spring right now!
Friday:
Friday seemed like a never ending day. I had some shopping to do, I had things going on with Jackson and I was just busy. I found the cutest owl earrings on Friday too! It was just one of those days when I ran, shopped, and exhausted myself. I tried the bacon and ranch Turkey Sandwich from Arbys and let me tell you.... it was really delicious. I ate every bite! Then after husby came home, we had more errands together. I told you... EXHAUSTING! We had a good time together though and it was nice to have some time together... even if it was in the car! I came home and broke out my Learn to Knit book and did another one of my online knitting classes. You know, the thing about knitting is... you have to make the time to do it. For me, I have a ton of shit going on around here on a daily basis and by time I am ready to knit at night, I am so tired that I only do it for a few minutes. Gotta make more time!
Saturday:
Saturday started off pretty easy. We had lovely weather and the sun was out which helped get me out of the bed a little quicker. I went on and made Jackson's favorite smoothie for our brunch. He loves tropical drinks and helped himself to seconds on the smoothie. And it was packed with healthy ingredients. Then I got busy painting a small wall in chalk board paint. Now, I am not the best painter but I couldn't/wouldn't wait on husby so I did it myself! We are still working on it and getting it framed in but it turned out nice! I can't wait until its done and we can use it! Then I got busy with making my homemade samoa girl scout cookies. It was a bit of a process but it was fun to do! Husby came home and we all took off in search of a nice dinner that I didn't have to cook. We settled on Long Horn. We ate so much that I could barely move. We had a long wait to get seated so we decided to head right next door to Old Navy to do a little shopping. It was fun. I can't remember the last time we went out clothes shopping as a family. We all got some new clothes and had a wonderful dinner. I came home and finished the last step in the samoa cookies. They are hands down one of the best cookies I have ever made. They totally taste like the beloved girl scout cookies and my family loves them. I'll have the recipe up soon!
Sunday:
Sunday started off really easy for me. I stayed in bed a little later... which was really nice. There was no rush to get up and do anything. Sure, I had things to do but I just let myself wake up easy. Husby went golfing and Jackson ended up sleeping in too. Once I did get up, I didn't really stop until bed. I got myself cleaned up and took Jackson to Game Stop and then went to do our weekly grocery shopping. Thank goodness for sticky notes! My list was secured to the buggie and I got busy rolling around the store getting what we need. I was pretty shocked though.. my bill was close to $300. YIKES! But I am sure a lot of the stuff I got, will take us into the next week. I was lucky that Jackson was here and helped get them all inside where I did 2 different hauls before getting it all put away. Last week, I was sent some frozen Asian inspired food that we tested out last night which the boys really liked. Fancy that! Then it was back out to Lowes and Walmart with husby. I pretty much begged not to go but he wanted company so I tagged along! We were pretty quick with getting the items we needed plus a few other things and got back home. Scott got busy replacing the garbage disposal from where I broke it. I don't know.... I am awful with the garbage disposal. I shove all kinds of shit down there and they always break. This is our 3rd one and hopefully it will be the last! I watched Downton Abbey while husby got my new lamp from Lowes put together. How many of you are watching and loving Downton Abbey!? I loooooove it! It was late before I was relaxing in the bath. I had a wonderful big bubble bath which gave me a little boost in energy to get Jacksons stuff ready for school and finish up before falling into the bed. It was a rather nice weekend! :) How was your weekend? Below you will find all the videos and vlogs from Friday - Sunday.. Hope you enjoy!
Weekend Videos:
Friday:
Saturday:
Sunday:
Weekend Vlogs:
Friday:
Saturday:
Sunday:
To-do's and Goals for the Week:
Work on getting the office cleaned up and organized.
Start Zone Cleaning and film
Prep some dinners for this week
Finish the chalkboard wall project
Get laundry put up. Its never ending.
Catch up on emails and comments
An explosion happened in the microwave this weekend, so gotta clean it out.
Sell Jacksons school stuff for a school fundraiser.
Groom all the kitty cats
Work in planners and get things figured out for the upcoming days and weeks.
I hope you have a wonderful week! I'll be back soon with a food review video.... Stay tuned!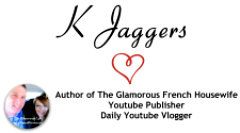 Take some time to explore
My housewife Life Youtube Channel
.

Check out all my recent videos in the first row and browse through all the different categories of videos (like Beauty, Cooking, Pets, Trips and much more!) located in the bottom rows. You can also
subscribe to my Youtube Vlog Channel
where I post daily vlogs of all sorts! Be sure to subscribe to both and be the first one to learn about newly released videos!