Hello everyone.. I hope you are having a wonderful Friday. I am back with this weeks Friday Letters.. Hope you enjoy.
Dear God, Like I said last week...you are seriously testing me. I don't think I am going to pass. You know me.. You made me.. and I am exhausted with all the lessons and tests you are throwing my way. I really need your help and not more problems. Please hear my prayers.
Dear Scott, I don't what to say. You say you agree with me on things but your actions don't seem like it. Fat Pat is 14 miles from your dealership and your ex wife is back to her old games. I know you might not be able to control them but damn.. its sure not looking good.
Dear Brittany, I miss you. Sorry about getting on the phone and not being so nice. I just am having a hell of a time around here. I wish you, Jackson and me could just run away together. One can dream right!?
Dear Mom, I want to tell you so much but I hate to complain and I don't want to stress you out. But your daughter is exhausted and really
sad
pissed right now and I wish you were here or maybe I wish I was there. Idk but when things get hard.. I always want my mom.
Dear Patrick, I hope our heart to heart last night gives you something to think about today. You are such a user liar crackhead who needs to move on to the next meal ticket. Your a piece of shit.... and deep down, you know I am right. GO AWAY.
Dear Tasha, I am so happy you are loving Ti. Ha! I remembered his name! Thank you for the sweet picture. Your blog is looking great!
Dear Trina, I wish I could call and tell you exactly how I feel but I am pretty sure you already know. I don't want pity.. I don't want to keep calling complaining. I am just a mess right now but I love you and I appreciate you always being there for me. It means everything.
Dear Jackson, I know you were faking it yesterday but I enjoyed our time together. You are the cutest ever and I did enjoy you being home. However, school is very important and you can't take too many hooky days or you will have summer school. No more staying home unless you really are sick!
Dear Shannon, You are such a piece of work. Call 6 times yesterday? Remind me of what the emergency was???? Let me be clear so you really understand. I don't care if your foot falls off or you are overwhelmed with your houseful of kids. Did I make those decisions for you? You had 6 kids with 6 guys and you are overwhelmed? I bet your not too overwhelmed to go to the mail box to get their checks. You have made a living at robbing the system, getting knocked up by every man you encountered and then calling us for more money. RIGHT. You know what? Your not my problem anymore.
Dear Laura, I am so proud of you. It won't be long until you are walking that stage getting that degree! Wooooo-hoooo! Kiss the girls for me.
Dear Dad, you see the mess. Why can't you give me warnings?? You know, you could come to me in a dream and give me the answers I so need. I need to hear you say that its all going to be ok. I need that. I really do.
Dear Jordan, I know you love me... I know you are also angry but you have to know that we have all been waiting on you for years. Come on.. time can run out on any of us and you have a entire family wanting to get to know you. We miss you.
Dear Shanna, Thank you for the emergency phone call in the bath last night. If I didn't have you to talk to or vent to, I don't know what I would do. I want to talk to you right now.. so get up!
Dear Bloggy/youtube Friends, Clearly you see that I am not a happy girl right now. I am not happy with so many things but I am happy and thankful for all your love and support. Just so you know, I am not going to stop blogging or making videos on youtube no matter what happens. I am here to stay so stop sending me emails asking if I am stopping because of all the problems. The answer is a BIG FAT NO!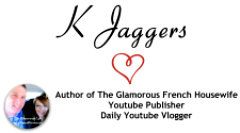 Take some time to explore
My housewife Life Youtube Channel
.

Check out all my recent videos in the first row and browse through all the different categories of videos (like Beauty, Cooking, Pets, Trips and much more!) located in the bottom rows. You can also
subscribe to my Youtube Vlog Channel
where I post daily vlogs of all sorts! Be sure to subscribe to both and be the first one to learn about newly released videos!