Dear God,
I feel like I am being tested again. You made me this way so why does it have to be so challenging. You know I am going to fail a lot of the tests you give me. I keep trying though and put my faith in you.. everyday.
Dear Scott,
I have been so mad at you for bringing problems around when we clearly have enough of our own. However, last night you made me laugh so hard that I forgot that I was pissed. I love you. I know you love me and I will try harder to keep calm in hard situations. But please discuss future plans that effect not only you but the rest of us too.
Dear Jackson,
I am none too happy with that science grade. I know you are trying which is why you are not in trouble however.... it needs to come up! I love you and guess what!? ITS FRIDAY!
Dear Trina,
Thank you for being so supportive when I call about our crap going on here. I totally appreciate your love and support.
Dear Tasha,
It was so nice meeting you and your beautiful family. I hope Rocco ( or whatever name you guys pick ) brings you many years of happiness. If anything were to happen and you need to get rid of him, my door is always open. We wanted to find him a home where he would be loved and cared for and I truly believe he will be happy with you! Keep the pictures and vlogs coming! I thought I was subscribed to you on youtube but I guess I just click your name and go to your channel. But I am following your blog ( wish you had a GFC widget though! ) and so happy to be getting to know you!
Dear Mom,
I am glad you are starting to feel better re Noah. I know it was hard but it will be ok. I hope you guys come up this summer being we are not going on the cruise. :( Guess Scott didn't think about his vacation time and you know we are coming for Christmas!
Dear Brittany,
Glad you loved your box. I miss you so much. I wish more than anything I could just give you a big hug. You better call your mom NIGHTLY before I shut off that fancy phone of yours.
Dear Shanna,
I miss seeing you. Thanks for being the best friend any girl could ask for. That dumb bitch A. sure lost a damn good friend.
Dear Youtube,
Thanks for the handy changes that has probably been the cause of my videos being black when I first upload them. Get your shit together please.
Dear Jordan,
You know, I figure you have a lot of questions and your father and I. Even through we are not together now, you really were created in love. Russell was my first real boyfriend and we are even friends now. I have so many things I want to tell you but you have to be the strong one and pick up the phone, or write an email. I can't make you do anything but I know your ♥, and I know you miss me. I know it. I miss you too.
Dear Laura,
I tried calling to check on you last night. I worry about you all the time. I hope you and the girls are doing ok.. check you fb messages! Love you.
Dear Patrick,
I don't hate you. I just know that the combination of both you and scott is a bad one. I want you to get/stay sober and get your life together. That's all I want and I hope everything works out for you. Staying sober is easy when your broke. Your real test will be staying sober when you have money to spend.
Dear Daily Mail,
Its stories like this
one,
that keep me coming back. I was so touched by that story where everyone came together to save that baby. That is what we are suppose to do. HELP OTHERS. And I am so happy the baby is ok. Oh and I loved this
article
showing the happiest states in the US are. I KNEW KENTUCKY HAD TO RANK LOW.. and I was sooooooooooooo right! Time to move to Colorado!
Dear Kevin & Marie,
While I know you might read this or might not read but your family misses you. I know you guys hate everyone pretty much but you can stop and pick up the phone. Marjorie misses Kevin a lot as does Scott. Families fight. Brothers fight but the difference between fighting with family and some random friend is FORGIVENESS. Really, you should be a little more forgiving of blood family and just move on before its too late. Wouldn't it be sad for something to happen to the people you are hating on and you never had a chance to make it right. Let me tell you from PERSONAL EXPERIENCE....there is nothing more heart breaking than knowing you should have said more.. done more.. tried harder.. Forgive while you have the chance.
Dear Joe Biden,
You shouldn't run for President.. I think its Hilary's coming up and I would so push you out of the way to get to her. I really think she could be a wonderful President.. and hey.. its time for a woman to take over that office. And lets face it.. Hilary is strong, smart, and can do the job. So move out of the way and let it happen.
Dear Dad,
I dreamed about you a few nights ago. I don't remember the details but I do remember how loved I felt. Thank you for being there for me all those years when I was ripping and running. I know I was a crazy handful and caused a lot of problems but I kinda feel even in death that you are here for me. I know you look down and I hope you are proud of how well I have pulled my life together. I miss you so much. I carry your love around inside of me everyday.
Dear youtube/blog friends,
Its been a hard past few days in re to a old friend of my husbands. I was so upset yesterday and then I get this email..
I wanted to thank you for sharing so much of your life with me and others. I enjoy your vlogs and videos very much...there are so many women who do the same, but I find it much easier to relate to you. Simply put, you are REAL...and I appriceate that most of all.I, like you, have a passion for planners, office/school supplies, and the like. After watching your Erin Condren..open box video I ordered my own planner. It arrived today and I LOVE IT! I even gave a \"thank you\" shout out on my fb page...lqtm.
Again, thank you for everything you do.
I really needed that when it came in. You guys are wonderful to me and I am so thankful for all your comments and support over the years. Some of you guys have been with me from the very start and I couldn't be more blessed. Tasha and I found each other and she ended up taking Rocco, Emails come in all the time with the kinds words, and I am shocked. I never expected my blog and youtube channel to bring so many wonderful, passionate, people into my life. Thank you.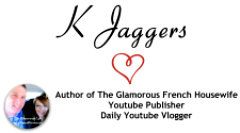 Take some time to explore
My housewife Life Youtube Channel
.

Check out all my recent videos in the first row and browse through all the different categories of videos (like Beauty, Cooking, Pets, Trips and much more!) located in the bottom rows. You can also
subscribe to my Youtube Vlog Channel
where I post daily vlogs of all sorts! Be sure to subscribe to both and be the first one to learn about newly released videos!