Hello friends! I love Saturday evenings. I use to want to rip and run all over the place but I really enjoy being at home with my family. I am here with a Dollar Tree Haul from earlier today. I love finding bargains for $1. I see so many people do there weekly grocery shopping at the Dollar Tree which makes me want to try it once. So probably in the coming weeks, I will give it a try! Let me know if that is something you are interested in seeing. I will probably doing the planning right there in the store off the cuff and then at home try to make decent meals from the Dollar Tree. Should be interesting! In the meantime, enjoy the haul below!
What are some of your favorite items from the Dollar Tree!?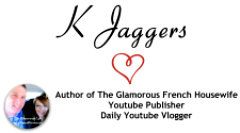 Take some time to explore
My housewife Life Youtube Channel
.

Check out all my recent videos in the first row and browse through all the different categories of videos (like Beauty, Cooking, Pets, Trips and much more!) located in the bottom rows. You can also
subscribe to my Youtube Vlog Channel
where I post daily vlogs of all sorts! Be sure to subscribe to both and be the first one to learn about newly released videos!