Hello friends! I am back today with a fun food review! I recently received the Crazy Cuizine Mandarin Orange Chicken and Teriyaki Chicken to try out and review. I always love trying new food and we love any Asian Inspired meals. My full review is in the video and there are more pictures and info below. PLUS....A GIVEAWAY! The Video has all the details! Hope you enjoy!
Crazy Cuizine is a line that offers Authentic Asian Inspired Dishes. They have a variety to choose from:
Mandarin Orange Chicken
Teriyaki Chicken
General Tso's Chicken
Korean BBQ Chicken
Pot Stickers
I received the Orange Chicken and Teriyaki Chicken.
Both boxes contain the Chicken and the sauce packets.
There are a variety of ways to make these from the stove top, oven and even microwave. I put both boxes on one cookie sheet and baked. During the time they were in the oven, I shook them around some so they would brown up a little bit on both sides. Then I added the sauce packets and served it on sticky rice and
put it out on the table family style where everyone could help themselves. I think with any convenience food like this you can jazz it up so easy. We love sticky rice around here and I thought the scallions would just brighten it up a bit and give it one more added flavor.
We really enjoyed these. The boys like the Teriyaki Chicken the best and my favorite was the orange chicken. I think these kind of meals are great for those nights when you have to get something on the table and don't have a lot of time. Its ok to take help from the store sometimes and both of the Crazy Cuizine meals were delicious and super easy to make!
If you are interested in trying these for yourself GET ENTERED IN THE GIVEAWAY! This giveaway is open to everyone in:
California
Utah
Arizona
Washington
Oregon
Colorado
New York
Illinois
Also if you don't want to wait to try them out, head over to to the Crazy Cuizine facebook Page where you will find a $2 off coupon too!
This GIVEAWAY will end in ONE WEEK on February 17, 2013
You will have to like Crazy Cuizines Facebook page to enter ( which you can do on the form below )
Winner will be announced via VIDEO and will have 48 hours to send me your information or another winner will be chosen.
GOOD LUCK!
a Rafflecopter giveaway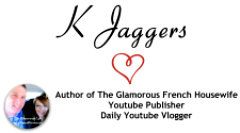 Take some time to explore
My housewife Life Youtube Channel
.

Check out all my recent videos in the first row and browse through all the different categories of videos (like Beauty, Cooking, Pets, Trips and much more!) located in the bottom rows. You can also
subscribe to my Youtube Vlog Channel
where I post daily vlogs of all sorts! Be sure to subscribe to both and be the first one to learn about newly released videos!