Hello friends... Happy Thursday! I have been busy since about 9am doing everything from picking up the house to doing a little shopping. I am shocked how much I am getting done being I didn't really sleep that well last night. I figure by time dinner comes, I will be ready to fall over! Anyway, yesterday I finally started using my new blog calendar. Totally exciting for me! Scott was off work and we were home most of the day together just lounging around. If you want to see what we did, enjoy the vlog below!
Hope you are having a great day..I'll be back soon!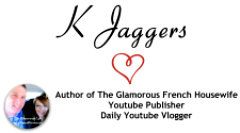 Take some time to explore
My housewife Life Youtube Channel
.

Check out all my recent videos in the first row and browse through all the different categories of videos (like Beauty, Cooking, Pets, Trips and much more!) located in the bottom rows. You can also
subscribe to my Youtube Vlog Channel
where I post daily vlogs of all sorts! Be sure to subscribe to both and be the first one to learn about newly released videos!