Hello friends! I hope you are all staying super warm on this very cold day. I am busy around the house getting things cleaned up. Last night we had a really easy and delicious dinner. Both Scott and Jackson loved it and so did I. I made a warm wedge salad and served it up with a grilled chicken breast. Super easy and if you want to check out how to make it, enjoy the video! The recipe for the wedge salad is below.


Warm Wedge Salad
Ingredients
3 slices pumpernickel bread, cut into small cubes
4 tablespoons Olive Oil
4 slices bacon
1 head iceberg lettuce, quartered
4 tablespoons lemon juice
1 tablespoon Dijon mustard
1/2 small red onion, thinly sliced
1/2 cup Boiled Egg
* Optional
Roasted Red Bell Pepper
Instead of using the olive oil and lemon juice...I used LiteHouse Tuscan Herb with Lemon Dressing and Marinade.
Directions
Preheat the oven to 350 degrees . In a medium bowl, toss the bread with 1 tbsp. Olive Oil; season generously with salt and pepper. Spread on a baking sheet and bake until crunchy, 8 to 10 minutes. Let cool.
Then in a large skillet, cook the bacon over medium until crisp; transfer to a paper towel-lined plate. Drain the skillet, reserving 2 tbsp. of the drippings. Let the bacon cool, then chop.
In the same skillet, heat 1 tbsp. Olive Oil over medium. Add the lettuce wedges, cut side down, and cook until lightly charred, about 45 seconds per side. * I used a indoor grill and non stick spray instead.
In a small bowl, whisk the reserved bacon drippings with the lemon juice, mustard and the remaining 2 tbsp. Olive Oil until smooth; season.
*But I cooked the bacon, kept the drippings and cooked the onions and roasted bell pepper until soft. Then I removed the onions to a plate and added the dijon mustard and Litehouse Tuscan Herb Dressing. I cooked it on low for about 2 minutes and removed it from the stove until I was ready to use it.
Divide the wedges among four plates and top with the croutons, bacon, onion and egg. Drizzle with the warm dressing over the grilled wedge... and enjoy! I served it up with a chicken breast but fish goes great with this salad too!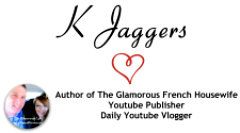 Take some time to explore
My housewife Life Youtube Channel
.

Check out all my recent videos in the first row and browse through all the different categories of videos (like Beauty, Cooking, Pets, Trips and much more!) located in the bottom rows. You can also
subscribe to my Youtube Vlog Channel
where I post daily vlogs of all sorts! Be sure to subscribe to both and be the first one to learn about newly released videos!