So I am back this evening with a recipe for such a warm and cozy meal.. Crockpot Bean & Bacon Soup. I remember growing up and loving the Campbells Bean & Bacon soup in a can. So over the years I have duplicated that soup and make it my own! This is super easy... it doesn't require a ton of ingredients and cooks in the crockpot! It couldn't be easier! Everything is in the video but there are more photos and recipe at below!
Here's how to make it!
32 oz Dried Northern Beans
1.5 lb Bacon
2 Onions diced
1/2 lb Carrots diced
4 cloves Garlic - left whole or you mince it -
4 cup Water
1 Box of Chicken Broth
1 Bay Leaf
1/2 tsp Crushed Red Pepper
Salt & Pepper (to taste)



Sort beans and remove any debris or rocks.
Rinse beans under cold water.
Fry bacon in skillet till crispy.
Add all ingredients to slow cooker.
Cook on low for 10 hours or on high for 6-8
Add more water if needed
Mash up some of the beans
Salt & Pepper to taste
and enjoy!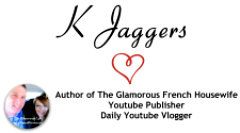 Take some time to explore
My housewife Life Youtube Channel
.

Check out all my recent videos in the first row and browse through all the different categories of videos (like Beauty, Cooking, Pets, Trips and much more!) located in the bottom rows. You can also
subscribe to my Youtube Vlog Channel
where I post daily vlogs of all sorts! Be sure to subscribe to both and be the first one to learn about newly released videos!