Happy Saturday friends! I hope you are having a great afternoon. Its been raining all here today but its starting to lighten up and the sun is coming out. Yesterday was another rainy cold day which kept me home. There was no way I was going to venture out in that kind of weather unless I have to. I was so grateful that Scott took Jackson to school everyday this past week so I didn't have to get out in that mess. Its hard to find motivation on such crappy days. If you want to see what else I did actually do, enjoy the vlog below!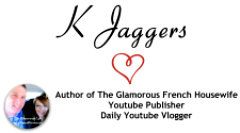 Take some time to explore
My housewife Life Youtube Channel
.

Check out all my recent videos in the first row and browse through all the different categories of videos (like Beauty, Cooking, Pets, Trips and much more!) located in the bottom rows. You can also
subscribe to my Youtube Vlog Channel
where I post daily vlogs of all sorts! Be sure to subscribe to both and be the first one to learn about newly released videos!