Happy Monday Friends! I am in a all out panic about the Christmas being only a few days away. Can you believe it? With the dental work I had done, I have totally been unable to do half the stuff I need to do. Today I am heading out back to the Dentist for a checkup and then to the market to get a few things to start baking. I think I am going to try to get ALL the baking done by Wednesday. Wish me luck because I honestly don't really feel like doing it but there is no time to sit around and feel bad. I just have to work through it and get it done.
So today's weekend in review is going to be simply vlog style. I have been laid up on the couch for over a week trying to recover so none of the vlogs are that exciting but if you are interested in seeing what I did do other than sleeping, enjoy the vlogs below!
Friday:
Saturday:
Sunday:
Time to get busy! I hope you have a great week!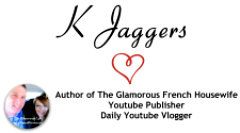 Take some time to explore
My housewife Life Youtube Channel
.

Check out all my recent videos in the first row and browse through all the different categories of videos (like Beauty, Cooking, Pets, Trips and much more!) located in the bottom rows. You can also
subscribe to my Youtube Vlog Channel
where I post daily vlogs of all sorts! Be sure to subscribe to both and be the first one to learn about newly released videos!