Hello friends! I hope your evening is going well... I am back with another one of my Holiday Baking 2013 Videos. This one is my simple Peanut Butter Surprise Cookies! They are super simple to make and you could even use premade peanut butter dough if you were pressed for time! Hope you enjoy!
Kisha's Peanut Butter Surprise Cookie Recipe
Ingredients:
1/2 cup (1 stick) salted butter, softened to room temperature
1/2 cup packed dark brown sugar (or light brown)
1/4 cup sugar
1 large egg
3/4 cup creamy peanut butter
1 teaspoon vanilla extract
1/2 teaspoon baking soda
1 and 1/4 cups all-purpose flour
24 Rolos
Directions:
In a large bowl using a hand-held mixer or stand alone mixer, cream the butter and sugars together. Stir in the peanut butter, egg, and vanilla (in that order). Slowly mix in the baking soda and flour. Do not overmix. Chill the dough for 30 minutes.
Preheat oven to 350 degrees. Take 1.5 tbsp scoop of the chilled dough and split in half. Stick a rolo on the bottom half, kind of like a "cradle" as shown above. Top the rolo with the other half of the scooped dough and seal down the sides so that the rolo is completely stuffed inside. Repeat with the rest of the dough and all rolos. Bake for 9 minutes. Allow to cool completely on a wire rack.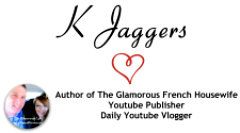 Take some time to explore
My housewife Life Youtube Channel
.

Check out all my recent videos in the first row and browse through all the different categories of videos (like Beauty, Cooking, Pets, Trips and much more!) located in the bottom rows. You can also
subscribe to my Youtube Vlog Channel
where I post daily vlogs of all sorts! Be sure to subscribe to both and be the first one to learn about newly released videos!