Hello friends! I hope you are having a wonderful evening. I know its New Years Eve but I still wanted to share this recipe from my Grandma Mary's Collection. Its so easy to make and I know so many of you are always looking for new chicken recipes.. this is a good one! Everything is explained in detail in the video and the recipe is below....remember you can always hit the Print Friendly button too! Hope you enjoy!
Grandmas Crunchy Cheddar Chicken Bake
2 lbs chicken tenders or 4 large chicken breasts
3 cups cheddar cheese, grated ( store bought works ok too )
1/2 cup whole milk
2 sleeves Ritz crackers
1/2 teaspoons salt
1/2 teaspoon pepper
1 teaspoon fresh or dried parsley
Sauce:
1 10 ounce can cream of chicken soup
2 tablespoon sour cream
2 large tablespoons butter
1 teaspoon fresh or dried parsley
Crush crackers.. I like using a rolling pin. Pour the milk, cheese and cracker crumbs into 3 separate small dishes. Add the salt and pepper into the cracker crumbs.. mix. Dip each piece of chicken into the milk and then the cheese. Press the cheese into the chicken with your fingers. Then press the cheesy chicken into the cracker crumbs and really press the crackers into the chicken.
Spray large casserole with cooking spray and lay the chicken inside the pan. Sprinkle the dried parsley over the chicken. Cover the pan with tin foil and bake at 400 degrees for 35 minutes. Remove foil, bake for an additional 10-15 minutes, or until the chicken tenders are golden brown and crispy.
In a sauce pan combine the cream of chicken soup, sour cream and butter. Stir it over medium high heat until the sauce is nice and hot. Pour over crunch cheddar chicken.. and enjoy!
I served this with steamed broccoli and my family loved it as always!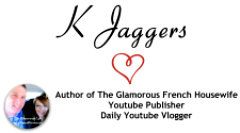 Take some time to explore
My housewife Life Youtube Channel
.

Check out all my recent videos in the first row and browse through all the different categories of videos (like Beauty, Cooking, Pets, Trips and much more!) located in the bottom rows. You can also
subscribe to my Youtube Vlog Channel
where I post daily vlogs of all sorts! Be sure to subscribe to both and be the first one to learn about newly released videos!