Hello friends! I hope you are having a wonderful afternoon. I am busy ziping around the house trying to start my holiday cleaning. I slept in a bit late...and didn't hear the alarm clock so everything is behind today. I just hope to catch up in the next few hours. Plus my Huge Family Food Haul + Food Storage Tips didn't upload last night ( thanks yt ) so I had to wait to upload my glam gossip vlog. But I am getting the haul uploaded now... so it should be up in a while....Come back and check in a couple hours!
Anyway, I took a little time off this weekend to just get my head together. I really do suffer the winter blues. I know its not winter but I am always effected around the time we set our clocks back. Sure the extra hour of sleep is great but the shorter days just make me sad. So I took a much needed break from my daily vlogs over the weekend. I did film just a bit on each day but I didn't film much. And it was nice. I focused more on myself and my family and even the house. I love filming, I love editing, I love
youtube
, but there are times when breaks are nice...even needed at times. This weather is also making me more sleepy which does not help anything. But I am fighting my way through it one day at a time. Staying motivated and busy helps but taking the time to relax from everything also helps. We pretty much took it easy over the weekend besides my big shopping trip Sunday. I also cleaned up the pantry some for my new Kitchen Organization series. It needed cleaned up anyway. I can't wait to show you how its organized and give you some tips to help get your pantry in shape again.
Here's my vlog with some of the highlights of the weekend...hope you enjoy!
And always Remember: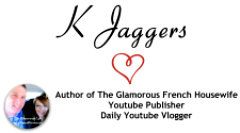 Take some time to explore
My housewife Life Youtube Channel
.

Check out all my recent videos in the first row and browse through all the different categories of videos (like Beauty, Cooking, Pets, Trips and much more!) located in the bottom rows. You can also
subscribe to my Youtube Vlog Channel
where I post daily vlogs of all sorts! Be sure to subscribe to both and be the first one to learn about newly released videos!