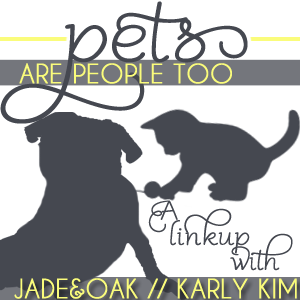 I saw this linkup over at
Jade and Oak
and thought it was genius. I am always linking up with different bloggers but I have yet to see another linkup for our beloved pets. This is perfect for not only me but my big family of animals! Hope you enjoy!
I have been breeding Persian Cats now for over 5 years. I can't believe how time has flew by. It has been one of the biggest blessings I have ever experienced.
It was a dream of mine to breed this beautiful babies and have a house with bouncing kittens running around my home.
We have truly been blessed with the litters and the babies and lets not forget...
the mom kitties who took such good care of them.
I won't say that this little hobby of mine was not expensive as hell. The vet care, food, litter, along with so many other expenses all seemed worth it to me but having a houseful of cats is costly.
This past year, we lost a entire litter without any reason or understanding. It shook our family to the core. The kids were heart broken as was I. They all buried the babies and we pretty much made a family decision to not do it anymore. But before we could get the males fixed...we had another pregnancy with Gabby. So we watched and waited.. protected her in every way and before we knew it...
There were 3 more! I didn't talk a lot about the babies because I was scared to death Gabby would need another C- Section but it all went so well and the babies were born healthy and Gabby had no problems. No matter how done we felt, clearly there was another plan for us.
So now all the babies are growing up and almost ready to go to their new loving homes.
I can't even explain in words what this journey has been for me. I have loved, absolutely loved having a cattery. Its been an experience of a life time and I am sad to see it end. But it comes down to either growing it more or giving my females the break they deserve.
I have really struggled with what to do but we are slowing things down for a few years and then if we want to do it again.. we sure know how!
And lets face it..
Super Cooper would like a little more attention too. I am surprised he hasn't switched over from barking to meowing in our house but he is so good with the kitty cats. I can't imgaine how hard it will be handing over this last litter to their new owners but its always bitter sweet. Always. Each kitten has a piece of my heart which now spread over the East Coast. Its an honor to send these little bundles of love to new families. But this time its going to be a bit harder. :( I am sure we will all adjust to our new life without kittens but we still have a houseful of cats that will be us until their last breath. I want to get settled where we are going to stay for a long while before starting up again. Its been an amazing experience and I will miss it. But who says it has to be forever!?