Hello Friends! I hope you are having a great night. I am here with another Kitchen Organization Video! Yesterday I posted my
Pantry Reorganization Makeover Video
and now I am going to show you how I organize my kitchen counter tops and my kitchen drawers. Certainly my way is not the only way but this is what works for my family! I hope you find some inspiration to clean up your counters and get your drawers in better shape before Thanksgiving arrives. It will make life so much easier if things are tidy and organized! :) Enjoy the video... and as always, more pictures and info below!
Kitchen Counter Tops:
I don't really like having a ton of stuff on the counters. I think it makes it look cluttered and messy. But we are still a family who uses certain items often so it makes sense to let those items sit out on the counter tops. I think when it comes to our counters in the kitchen, many of us have too much stuff laying around making it hard to really clean the counters. I think being our food is in that area, we should really be able to clean the counters without having to move a bunch of stuff. So in the middle on the island I have a cute little fall sign and just a small wood cutting board. I only really like to use this area for food I am preparing. Then on the back wall where the stove is we keep our blender, can opener, scale and teapot. Another tea pot lives on the stove and on the other counter I have a tin of wood spoons for easy access.
Around my sink I usually have season decorations because its a pretty wide empty space. I also use this area for my indoor herb garden that is starting to get pretty wild! I also keep just a couple of our cleaners, and a roll of paper towels. On the other side is just a coffee pot, jar of sugar, toaster, and a bowl of fruit.
Junk Drawers:
You can see more about this area in my
Kitchen Office Video
but these 2 drawers hold just random household items. They need a little once over but they are actually organized. We know where everything is and can get to it easily.
Flatware & Knives
We have a lot of flatware so I only keep half of it in the house. The rest is stored in the garage for times when we have a lot of company. I just use a simple organizer and keep just a few large serving spoons in the back of the drawer. On the right is my knife drawer. I just got tired of our knife block and starting storing our knives in a drawer. They lay on a Silpat so they don't shift around. In the blue bin on the back are the small kitchen knives and the I keep our steak knives in front blue bin. This actually works well for us.. I am shocked that I like it better than the knife block but I do!
Stacked Drawers:
To the left of our stove we have a stack of 4 drawers. The top 2 just normal drawers but the bottom 2 are deep. In the top I keep my cooking mittens, and some extra canning lids. In the drawer below that I keep our supply of baggies. I love ziplock and I love not wasting food so its no surprise we have a lot of different sized storage bags.
Sink Drawer:
On the left side of our sink we have another long skinny drawer. I added a rack and use this area to hold the different items I use when I wash dishes. It works perfectly!
Tea Drawers:
I have a huge selection of tea. I have many different kinds loose and bagged and so far the drawers have been the best way I have found to store them. In the cabinets they are too high to really be seen. In the pantry they would just take up too much room and the two drawers at the end of the cabinets hold them beautifully. I am in these drawers daily.
Island Drawers:
We have 2 large drawers in our island. These work so good to hold all our other cooking and baking gadgets. On the left is more baking items such as measuring cups and spoons, rubber spatulas, measuring bowls, and different size ice cream scoops. On the right I have more cooking type items such as spatulas, large plastic spoons, my potato masher....I also have another little plastic container on the left side of the drawer with more little kitchen gadgets that we use a lot.
These small and yet simple organizational steps really makes navigating through the kitchen so much easier. Another reason it would be great to take a few minutes in the coming days to tidy up before its time for Thanksgiving. Even if you are not hosting, its a great time of year to give your kitchen a once over, making the most of the space you have. Tomorrow evening I will have another Kitchen Organization Video.. In fact, I have 4 more Kitchen Organization Videos coming up in the next few days. Be sure to let me know if you are getting organized before the holiday's kick off! #GlamFrenchHousewife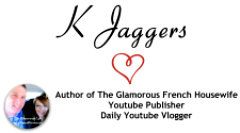 Take some time to explore
My housewife Life Youtube Channel
.

Check out all my recent videos in the first row and browse through all the different categories of videos (like Beauty, Cooking, Pets, Trips and much more!) located in the bottom rows. You can also
subscribe to my Youtube Vlog Channel
where I post daily vlogs of all sorts! Be sure to subscribe to both and be the first one to learn about newly released videos!