Hello friends! I hope you are enjoying this beautiful fall evening! I thought it might be useful for some of you guys to see how I plan for the holidays. I have received a bunch of emails over the past couple weeks about how I plan so I thought I would share it! I know that if you are hosting a Thanksgiving dinner party, it can be very overwhelming if you are not prepared. Hopefully, you can get some inspiration from my Thanksgiving Preparations Binder Organization and make yourself one too. Hope you enjoy the video and as always, there are more pictures and information below!
This is the first year I have used a binder. For a couple of years, I have used used a folder that held everything in place. But it started to get messy so a new system was born! I didn't want to spend a ton on this binder because I really just use it for the month of November. So I decided to just go to my local Dollar Store to get the tabs and sheet protectors.
Right now in the front, I have just have one of our current Thanksgiving Invitations. I think I will put a picture from this Thanksgiving in in it later.
When you first open the binder up, you will see the pocket folder I have used in the past on the left and on the right is the first tab along with some sticky notes of just simple reminders.
I have the binder broke down into five tabs...
I consider all the different sections important but I think the Schedules are the most valuable part of this binder. In fact, I think they are the most important way of staying focused and calm during the busy holiday time.
I will have another full video up of my schedules so you guys can see how I schedule things for the Week Before, Week of Thanksgiving, and then Day of Thanksgiving. Stay tuned!
In the back of the binder is this big zip lock type of envelope.
I really think this system is going to work well this Thanksgiving and many more to come. I love the set up. I love having my recipes for just this holiday in one place and I also love having just Thanksgiving coupons included. That way I am not digging through my other big coupon organizer to find coupons I need.
I have also uploaded this menu...
and the schedules on a
board in my pinterest page.
I thought this would be the easiest way of sharing the actual pages with you in case you want to build your Thanksgiving schedule off mine. Feel free to change them in anyway you need! I will have a video dedicated to just the schedules by the weekend! Stay tuned!
Also keep in mind that if you can't print at home... you can hand-write things out or you could go to a friends or the library to print out what you need. Just email it to yourself and hit print. However, if you are working in word, you should be able to attach to document in email and it will open in word at the library.
I hope this gets you motivated to get organized for Thanksgiving! Let me know in the comments on the video or on here if you use a Thanksgiving planner. I would love to hear from you! :)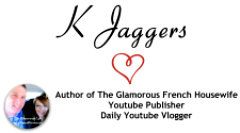 Take some time to explore
My housewife Life Youtube Channel
.

Check out all my recent videos in the first row and browse through all the different categories of videos (like Beauty, Cooking, Pets, Trips and much more!) located in the bottom rows. You can also
subscribe to my Youtube Vlog Channel
where I post daily vlogs of all sorts! Be sure to subscribe to both and be the first one to learn about newly released videos!