Happy Monday Friends! I am here today with another video in My Holiday Planning Series. This video shows how I make my schedules for the week before Thanksgiving, the week of Thanksgiving, and a separate schedule for Thanksgiving Day. These come in really handy for keeping me on track through the Thanksgiving Holidays! Here's the video and there are more pictures and information below!
I like to start planning 2 weeks before Thanksgiving. Starting this year on Monday 18th with of a housekeeping schedule. I also include my blog schedule too so everything is laid out clear on what I want to accomplish. I like to break it up by AM & PM.
I then move into Monday November 25 where I keep a heavy cleaning schedule and start to bake and prepare. I still break it up by AM - PM which is 8-12 and afternoon 12-5. Evening is after 5pm.
Again I listed what blog post I want to get up during this time too. It just helps give me a road map of how I want each day to be. Wednesday night a lot of our family will be arriving so I have to be ready for them. By this time I will have breakfast for Thanksgiving done.. and just will have to set it out and then we will move right into game day snacks which will be prepared before hand and then Thanksgiving dinner. I break down it down in time integuments so I really stay on track.
I take it from the morning of Thanksgiving all the way to the time I climb in bed. I just think this really keeps me focused on how I need to carry things out. I have breaks in time and our kitchen is open with our family room so I will still be able to visit when I am in the kitchen.
I plan everything on the menus. I think its important to map out what you will have to be cooking before you make your plans. Food and such needs to be prepped and cooked a different times which needs to be planned.
I also talk over the menu with family members to see if they want a particular dish and also for allergy reasons. I also have family for a couple days after Thanksgiving, which I have to plan meals for too. However, beyond meal planning, I let things happen naturally without a schedule. I clean as I go, but I wait until everyone is back home before I get the house really back to normal.
I don't do black Friday shopping.. EVER. That would be horrifing for me to have to go though. I do like the online sales sometimes but I don't go out. Instead, I use that day to sleep in, visit with family, and take the day as it comes.
I hope you find some inspiration to make your Thanksgiving a little easier with a nice game plan. I promise you, it will make all the difference in keeping you stress free during this very busy time. You can hit the print friendly button below if you want a copy of these list but they are also on my pinterest page that you can can find right here..

that you can pin if you'd like! Let me know if you are a Holiday Planner and what works for you!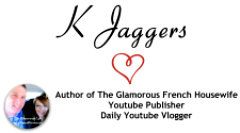 Take some time to explore
My housewife Life Youtube Channel
.

Check out all my recent videos in the first row and browse through all the different categories of videos (like Beauty, Cooking, Pets, Trips and much more!) located in the bottom rows. You can also
subscribe to my Youtube Vlog Channel
where I post daily vlogs of all sorts! Be sure to subscribe to both and be the first one to learn about newly released videos!