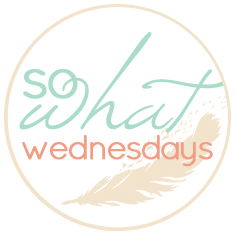 Happy Wednesday! Its time for another So What Post.. Hope you enjoy!
* So What I am tired as hell today. Maybe I will go to sleep at a normal time tonight.
* So What I am not leaving the house till after the verdict for Jodi Arias. I don't know exactly how I feel but I am pretty nervous sitting here waiting.
* So What its another cool day. The weatherman says it should start warming back up tomorrow. But I am starting to think he is a liar.
* So What I think I am paying someone to shave the dog this summer. Its such a big job and I really would have to buy new clippers if I did do it again. It takes about 5 hours for me to do it. Yea.. I think we should pay someone to do it this year.
* So What we are moving very soon and don't know where. Perfect huh? Hopefully the right house will show up soon.
* So What about those brothers who kept those 3 women hostage for 10 years?? OMG. I'm sorry to say this or feel this way but I think they should be killed. Seriously.. 10 years plus a child.. and there was supposly another child that is gone now.. Probably buried in the back yard with some other women. It makes me sick. I am so happy that those families got those back but think about all they went through. Its heartbreaking and those men really need to pay.
* So What that I am taking the easy way out on dinner tonight and making tacos. Jackson wanted a taco salad in a taco bowls so I hunted and hunted.. no store carries them around here.Honestly, I kinda felt silly going in store after store coming out with nothing So the only other thing I could do is find a pinterest quick tip if I wanted to try to make them myself. Not happening today.. its regular old tacos and he will just have to deal with it!
* So What I have been skipping a lot of makeup and just using bb creams. It feels lighter and I don't need a ton of makeup on days I am not going out.
* So What my purse seriously needs cleaned out. It seems like a job I never get around to.
* So What the kitties are really messy. They are so cute that I just don't care! (:
Hope you have a great day!
K Jaggers
♥