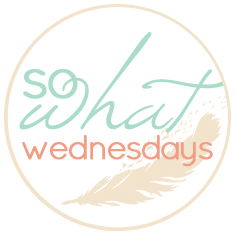 Happy Wednesday friends! I hope you are having a great Morning! Time for another So What Wednesdays with Shannon over at
Life after I Dew
!
So What

I think I pissed off my landlord today when I told her we will be moving out. I was really nice and she just went silent. Ha!
So What

the weather can't make up its mind today. Its been sunny, now it looks like rain...who knows what its going to do.
So What
My local CVS is dragging their heels on setting up a few of the new displays. Maybe its for the best....otherwise I would spend even more money!
So What
Jackson is still in school and Brittany had her last day. He starts back later than she does!
So What
I have a lot of laundry waiting on me to do. I'll get it started soon enough.
So What
I am not someone who really likes noise. I just prefer things quiet but with a houseful of kids this summer, it will be rare when that happens. Better enjoy it now!
So What
I really miss my husband today...he's going to be home all day tomorrow! (:
So What
the one or both of the kittens decided to have some fun with the toilet paper in my bathroom last night. I didn't see them doing it.. but there was a nice pile of toilet paper waiting on me to clean it up. It even looked like they had ate some.. who knows..Lucky for them, they are too cute for me to get mad at!
So What
I woke up late this morning and barely got Jackson to school on time
Accidents happen!
Hope you having a wonderful Wednesday!
K Jaggers
♥
Be sure to head over
here
to get entered into the giveaway for a chance to win this adorable apron. (: Good Luck! You can also use the form in the sidebar!