Happy Wednesday friends! I hope you are having a great Morning! Time for another So What Wednesdays with Shannon over at
Life after I Dew
!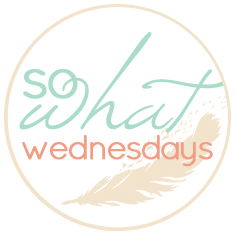 So What
I am barely going on any sleep today. Maybe I will get a nap in later.
So What
I have a house full of kitty cats.. yes, I am in fact the - Crazy Cat Woman! -
So What
I missed the Amanda Knox interview last night. I guess I will just have to buy the book.
So What
husby is golfing today instead of working.. its for charity!
So What
I didn't get a movie review posted yesterday....maybe I will make up for it this weekend!
.
So What
in parts of California teens can get condoms without their parents consent. At least they are wanting to be careful.
So What
I might have been wrong about Willow. I think she might be pregnant... could you imagine more kittys!!
So What
Google has stepped their game with their new Voice Commands like with Suri on Apple. I still can't make the switch over to Apple yet. Guess I am just a pc girl!
So What
I can't find a pair of my diamond earrings....they have to be around here somewhere.
So What
my neighbors pissed me off again yesterday. They just let their dogs use our yard as their bathroom. I just walked out there and he hurried off. I swear.... I can't wait to move!
So What
its suppose to rain again Thursday and Friday. I mean who wouldn't be happy with just one day of sunshine!? Grrrrrrrrrrrr....
So What
I haven't done a lick of excercise in months. I don't get how people LIKE to do it. I wish I could make myself do it but not yet.
So What
my makeup is a total mess. I get in a hurry and shit goes flying. I seriously need to spend some time organizing it all again.
So What
I plan on staying home the next couple of days. Home is where I am happiest. (:
So What
I didn't wear a bit of makeup yesterday....it had to be good for my skin!
So What
I am totally running behind with a tea review...hopefully I get it done in the coming weeks!
So What
our smelly dog needs a bath....husby is in charge of that job!
Hope you have a great Wednesday!
K Jaggers
♥