Happy Wednesday friends! I hope you are having a great Morning! Time for another So What Wednesdays with Shannon over at
Life after I Dew
!
Hope you enjoy!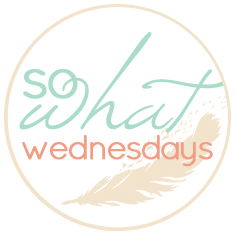 So What
I woke up 10 minutes before it was time to take Jackson to school. The bed just felt amazing this morning!
So What
I told the yard guys yesterday if they come early one more time then I am going to find someone else to take care of the yard. The last thing I want is to be woke up early to weed eaters and lawn mowers.No thank you. For as much as we pay, they should come at a time WE want.
So What
I keep changing this blog around! Like the new header?? I am seriously wanting to pay $300 for a new design but I am going to have to talk husby into it first!
So What my little boys favorite line right now is " I'm bored ". I don't listen half the time but I wish he would start to understand that he is afforded so many luxuries such as a bazillion tv channels, ipads , laptops, xobox, wii, and D.S's , a room full of toys and books... that the last thing he should be doing is complaining he is bored.
So What we are still waiting on summer to get here. It won't be long now!
So What we are still looking for a new house. When the right one comes along....it will be time to move!
So What we haven't found a church yet either. But you know.. God doesn't mind if I worship in a church or in my home. Sunday Morning with Joel Osteen and prayer is enough right now. Maybe when we find the right house, we will be able to find the right church too!
So What my nose has been sore for the past few days. I don't think I hit it on anything but it hurts like hell..WTF?
So What I don't tweet a lot. I am trying to do better but its hard to keep up with all the social media sites. I get wore out bouncing from one site to another trying to keep them updated!
So What if my coffee is cold right now and I am too lazy to go back down to the first floor for a refill!
So What we are dealing with a family member who is loosing his mind. And not only is he loosing HIS mind, his goofy wife is going right along with it and loosing HER mind too. Her facebook statuses are so radical and sad. I wish I could lock them both up in a physic ward until they get their heads right.
So What my closet is not completely organized yet.. It can wait!
So What I still can't find the garage door opener yet. Where in the hell did it go!? If any of you have special powers and can tell me.. leave it in the comments below! (:
So What I am thinking about dozing back off for a while.. Why not right!?
Have a great day!
K Jaggers
♥