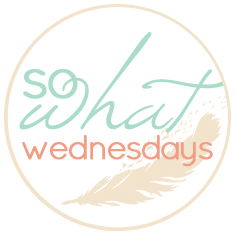 Happy Wednesday Friends! I hope you are having a great day! Today I am linking back up with Life before I Dew for
So what...
I have been up since 7:30 this morning. I normally go back to bed after taking Jackson to school but today I have stayed up and cleaned. Fun.. Fun..
So what...
that I am still not done with the closet cleaning, organization and remodel. I am not really remodeling it.. I am adding some extra storage but maybe if I get it cleaned up now it will be easier to pack up later when we move.
So what...
that the damn Pioneer Woman seems to be perfect. I still don't understand how that woman does it.. she is a wife. A mom. A mom that home schools, for crying out loud. An author. A photographer. A cook. She has her own TV show. She helps run a ranch. She cooks a bazillion meals per day. And she blogs! How? I want to ... no, I NEED to know how she fits all these things in to her days?! Oh, and she's apparently renovating a building downtown Pawhuska and has big plans (that involves food) for it. I swear if I ever meet her again I'm checking her back for a battery. It's insane.
So what...
Three of us has used 18...no really.. 18 TOWELS IN
DAYS. We seriously need to change that!
So what...
I have to go shopping in a little while when I would rather stay home and go back to bed. Working on my list...
So what...
We have these big wood bees around the back deck who torment our dog. I don't think they want to do anything but drill through wood.
So what...
that its totally a ponytail day.. For sure.
So what...
that I am starting to change my mind on Jodi Arias after hearing the prosecutors shrink yesterday. I am thinking now that she might just be done.
So what...
I blog a lot.. I am lucky to be a stay at home wife and mother where I have the time. I enjoy documenting our lives and I enjoy getting to know all of you!
So what...
I ran out of coffee and have been using instant espresso instead.. and its been so strong that it knocks my socks off... but the caffeine
helps! See why I need to go to the store!?
So what...
my nail polish is chipping off and I haven't done shit yet about it.. Guess that needs to happen soon!
So what...
My car is on 0 miles to empty.. I admit.. I am lazy about getting gas. I hate it.. My husband use to make sure my car stayed gassed up all the time but he's been working so many hours to do it.. and I just don't want to. But if I run out of gas today.. that will teach me! Thankfully the gas station is really close!
So what...
that the garage is still waiting on me to clean it. I hate doing that job.. I think it might be best to wait till Scott is willing to help!
So what...
I still struggle with my sons math homework.. sad huh? You should see my checkbook!
So what...
I found a mean site that hates on bloggers recently. Seriously people... why say anything if its not nice. I was shocked to see some of my favorite blogs on there being attacked. I am disgusted by how mean some people really are. And don't email me that we put our lives out here so we are fair to attack. BULLSHIT. Sure you can judge and say terrible things but instead of tearing people down maybe you should try kindness or just say nothing at all. You know, you don't have to read a blog if you don't like it. From what I could see of the website, you like stalking us.. and then just nick picking.. its sad.
So what...
all the neighborhood kids suckered me out of money this month! Its all about selling stuff.. I got more cookie dough in yesterday.. I also got this discount card for a bunch of local business a few days ago.. and I also got a big tin of popcorn. I can't resist saying yes to the cute kids!
So what...
My no cursing New Years Resolution has totally went down the toilet. I just can't control it. Why even try at this point?
So what...
my teeth hurt from whitening.. guess that's the price to pay but I hate it because it actually hurts. ):
Hope you have a great Wednesday!