Today I thought I would do some
fun tips!!!!
Here's how to make an envelope out of a ♥.. adorable!
Here are some of the commitments I am making to husby this Valentines day!
I plan on putting it on the white board down stairs. or maybe on the mirror in the bathroom!
Looking for some amazing fonts!?
Here's where you can find them free!!
Strawberry marshmallows, dipped them in some melted chocolate and sprinkled them with some little sprinkles.
You could even bag them up!
I love this idea from
The Beauty Department
on making a sugar scrub for Valentine Gifts.. I might even do this next Christmas.. LOVE IT!
Use a small mason jar or any clear jar with a lid. I got mine at Smart & Final. You can also buy them online if you can't find them in the store. These ones are about $11 for a dozen, so they're under a dollar each!
Start by putting a large scoop of coconut oil in the bottom of the jar. You can get coconut oil at any health food store or major supermarket. It's an "oil" but at room temp it's more like a butter consistency and has a white paste-y texture.
Next, pluck your rose petals and put them into the jar on top of the coconut oil.
Add your raw sugar. If you can't find raw cane sugar, brown sugar is a great option! The coarser the better.
Add your almond or jojoba oil on top of the sugar. I like jojoba oil best, which you can also find at health food stores or vitamin stores, because it's the closest thing to our own natural oil and it absorbs really nicely into the skin. But almond oil is great too because it doesn't take away from the scent in this jar.
Wait a minute for your oil to seep down to the flower petals and then top it off with a little more almond or jojoba oil. Last but not least, put your lid on and let it sit so the oils can soak into the flower petals.
1. Wrap your wreath with yarn and tie end of yarn in a knot or secure the end with hot glue.
2. Trace your heart template on the felt and cut the hearts out. (I used 16 hearts or 8 of each color.)
3. Hot glue the hearts around the front of the wreath, in an upside down/right-side up pattern.
4. Hot glue the end of a new piece of yarn to the back of the wreath and wrap around the wreath, crossing over each of the felt hearts on the diagonal. When you get all the way around your wreath, cut the yarn and glue the end to the back of your wreath with hot glue.
5. Repeat step 4, but cross of the felt hearts along the other diagonal, forming a "X" over each heart. (You can manipulate the yarn "X's" just by slightly moving the pieces of yarn once the wrapping/gluing is complete.)
6. Hang on your door, place on a mantle, or hang from a wreath post for all to admire. (I used a piece of ribbon to hang it from my front door.)
If you are looking for a beautiful Valentine Date Night Makeup.. check out this pretty look from Pixiwoo!
If you are looking for a fast easy way to say I love you over dinner.. consider stopping by your local pizza place and pick up a ♥ shaped pizza. Call ahead and see if they will have them.. Most of the time you can find sales on lovers pizza!
Or maybe breakfast in bed is your thing..Check out the recipes below for some romantic breakfast ideas!
Grapefruit or other fresh fruit
Still need to get your cards ready? Why not try this really cute and easy one!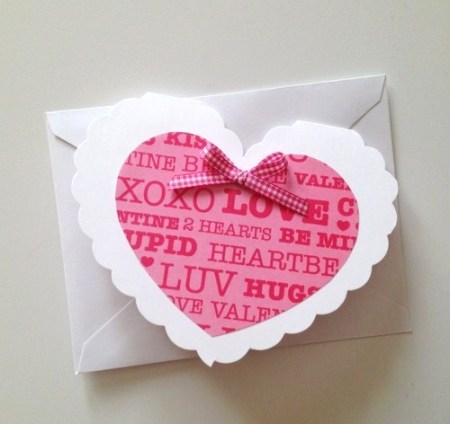 Supplies:
1 patterned paper (Valentine theme)
1 8 1/2 x 11" white cardstock
Fiskars paper edgers (Clouds)
pencil, scissors, eraser, double-sided tape
printer
ribbon
Steps:
Print and cut out the templates.

Fold 8 1/2 x 11 inch white cardstock in half.
Place the big heart template on fold. Then trace around the shape. Cut out with paper edgers.
Place the small heart template on the patterned paper. Cut out with scissors.
Attach in the center of white heart card with double-sided tape or glue stick.

Embellish with a small bow.
Envelope size: 5 3/4 x 4 3/8 inches
Hope you guys are getting ready for Valentines Day! If you have a tip or Valentine craft you want to share.. leave the link in the comments!
Happy Tuesday!
K Jaggers
♥