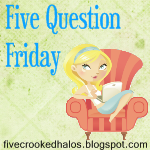 Happy Friday! Time to join up with
My Little Life
for 5 Question Friday!
Enjoy!
1. What is a hobby you would love to learn and why?
Pottery. I did a little bit many years in high school.. but haven't done it since. I should go take a class!
2. What do you wish you could have delivered to your house but does not deliver?
Wouldn't it be amazing if all your local stores products were cataloged online.. you select and pay and then they are delivered.. It would be amazing.
3. What's your favorite snow day activity? Inside and out?
Most of the time inside but it happens to be a big snow.. I will go out and play the kids and the dog. But I don't really like cold weather so I tend to stay indoors most of the time !
4. Would you meet a stranger from an Internet dating site?
I have. It was scary.. I hated the guy and never did it again. But if I was single and dating.. I might meet someone in a public place for dinner.
5. If you had to spend 35 hours in a car with 4 other people, who would you choose?
If we were driving that far.. it would have to be for something very important so I would choose to have all of us.
Because actually the little kids are pretty good at traveling. I also think its great to build as many good memories as possible while they are growing up. So yes... I would pack up a handy dandy mini van or SUV and head out! (:
K Jaggers
♥