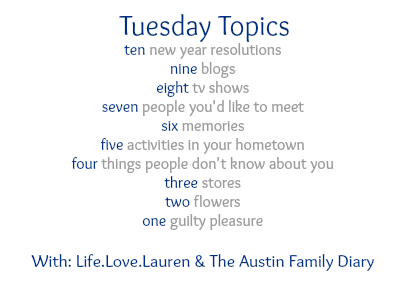 I am new to this linkup and missed the first one!! =((( So I am going ahead and catching up in 1 post!! So here I go!!
I really don't do Resolutions but I do have some goals..
M
ove
to Florida as soon as we can!
H
ave at least 3 litters of kittens in 2013
G
row my bob hair cut out.
L
ock up someone who has been stalking me for years. NO JOKE.
M
ake time to mediate once a day.
F
inally settle on a new bed room suit. Decisions Decisions.
K
iss my husband and my kids as much as one can take!
Q
uit Smoking.. Yep.. seriously got to try. I promised Jackson.
M
ake time to paint.
T
ry to go to bed earlier so I am not so tired in the am.
W
alk the dog more
Ok.. now on to today's question..
1. misschievous.tv - one of my favorite youtube beauty gurus .. Seriously love her and her blog!
3.
Buried with Children
- Buried with Children always makes me laugh. Her adventures with her kids seems very similar to our adventures in our house!
5. Wifessionals - is a refreshing kind of blog. I can find myself on there for a while just browsing around!
6. Chasing Birdies Shelby from Chasing Birdies is adorable.. and makes me smile when I read her friendly posts!
7.gl0ssy a sweet blogger friend I just met.. who seems to love makeup as much as I do!
9. Walking my own Path is my sister in laws new blog! Stop over and say hi if you get a chance.. she is just starting to make bloggy friends!
Link up!
Happy Tuesday!
I am also adding this post to