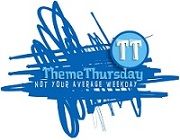 This week's Theme Thursday is about "The Breakfast Club." Specifically, which character were you in high school?
I grew up hating school. I came from a pretty liberal group of parents.. ( and yes, I had a group of parents ) There was my granparents whom I lived with .. My father and whatever woman was the flavor of the moment, in my life and my mom and her husband. So there was a big group of doting parents in my life. With that came me being spoiled. I think they started spoiling me long before I was even born.
So through out school.. in many ways I was sheltered. I had lovely clothes.. diamonds... I would say that out of the 5 main characters.. Clair would have to be my pick. Skipping school to go shopping is something I have done a ton of times. However, on more than one occasion I got to skip school with one of my parents. Her lunch in the movie reminded me something I would take myself .. and her stuck up attitude belonged to me too. Sad huh?
As school continued.. I started dating my first serious boyfriend. God.. he was a hot mess. We dated on and off for about 6 years and he helped show a young girl what it was like to really have fun and party. When that started happening, my grades started dropping. It wasn't a pretty picture and I actually ended up in dentition before, during and after school. Shit.. it was a miracle that I even got through the 11th grade.
By time 12th grade rolled around.. I was doing everything that I shouldn't have been. Smoking pot, skipping school, not studying, sex with my boyfriend.. Yea.. guess in 12th grade I felt I knew it all. And looking back.. I didn't know shit. Nothing about what really matters. Well life threw me and my family a big curve ball.. A devastation . My brother had been out with a group of friends.. drinking..driving.. on 4 wheelers.. and at 24 years old.. he died. I was at my boyfriends house sleeping.. which I was suppose to be home.. when the call came through. I thought it was just those nit picky parents of mine telling their 18 year old daughter to get of her boyfriends bed...and get her ass home.( He was also 18 ) .. it was like 3am. But it was something much worse. Jeremy had died.... the world shut down. I had to go back to school a day later and let them know I was taking off for a couple of days. It was hard because my family was at home.. going crazy.. hysterical..and I was sitting alone in the principles office needing time off. They told me no.. I had missed enough classes and days that if I took anymore than 1 day off.. I wouldn't graduate. I knew that it would be many days before I would be back in the classroom. With tears running down my face, I dropped out. I went home and told my parents that I quit school. To be very honest.. I don't even think anyone noticed. We handled things with the funeral. It was massive. Life really changed after his death. And I knew I had to graduate.. and I wanted to graduate with my class. So I began going to night school and by the grace of God I graduated.. when I finally had that accomplishment.. it didn't feel like I thought it would. Maybe it was the depression from my brother. But I could have went to graduation and wouldn't go. I didn't want to be on display.. No.
High school was ok for me. I did fall in love .. and out of love.. and I learned some serious life lessons. I hated school all my life. I remember coming home from the first grade knowing that I wasn't cut out for it. Then I go to college and blow everyone away making deans list semester after semester. I don't know what got into me.. but I did it. And this time it felt better.
I would seriously NEVER go back to those years from middle school to college. They were hard.. I was spoiled.. entitled.. and had so many hard times. My parents wouldn't have been dropping me off for dentition as in the movie though.. I drove a nice Mustang.. and would have probably been late and not even allowed into detention! =)
BTW.. I loved the breakfast club. Who didn't love that movie? I grew up watching movies with the
I love them even now!
Happy Thursday!
K Jaggers
♥