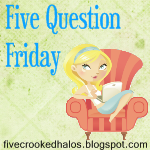 Hello friends! I am linking up with
My Little Life
for 5 question Friday!
Here are the questions...
1. Flu mist? Flu shot? Or take your chances?
2. Do your kids have iPads? What are some good educational apps? Price?
3. What are your favorite boy/girl baby names?
4. If an apple a day keeps the doctor away, which apple do you choose to eat? (red/green, gala, red delicious...)
5. What is your favorite place to escape to for peace & quiet, to think? Why?
And here is my answers!!!
Enjoy!
Happy Friday!
K Jaggers
♥