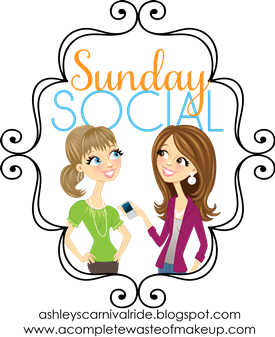 Happy Sunday Friends! Time for another
Sunday
social!!
1. Favorite Holiday Movies/TV Specials?
2. Do you do any volunteering during the holidays if so what?
I really wish I could say yes to this but I really don't. I give to the people ringing the bell outside the stores and I always seem to give a little more to the homeless people but I don't really volunteer anywhere.
3. Favorite toy received as a Child for the Holidays?
My grandfather made me a really amazing doll house when I was about 11 years old. I totally loved it...
I played with it for hours on end. I also always loved any kind of live presents too. Puppies, kitty cats, horses, and even some mean ass hamsters was great gifts too!
4. What was your must have item in high school for the Holidays?
Its been like 16 years since those days...and I really have no freaking idea.. BUT...I had lots of warm cozy coats and gloves. I hate cold weather and I always found stylish warm coats to wear.
5. Item you begged for the most and never got?
6. What do you do on Christmas Eve?
We pretty much Celebrate Christmas on Christmas Eve. We normally eat a big beautiful dinner.. then we spend some time relaxing for about an hour or so and then we open presents! Then on Christmas Day we have a big brunch and enjoy taking the day as it comes. We normally play with all of our new stuff and then take naps and just hang out. Its also a day we stay in our pjs as long as we want. I actually just got matching ones for Scott and I to wear Christmas Day!